Glamorous Vintage Baby Names Inspired By Old Hollywood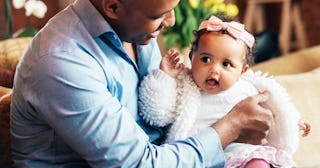 Matthew Henry/Burst
There's just something about the glitz of Old Hollywood that speaks to my soul. Maybe it's the fact that everybody always seemed to look so polished, perfect, and glam … while I'm sitting over here in my yoga pants and a sweatshirt I bought on clearance at Target. But I have the feeling that even if I tried, there's just something special about that bygone era that no amount of Spanx and hair spray can replicate.
These baby names exemplify the vintage glam of the stars who shone brightly during the Old Hollywood era. Such glamorous baby names convey the chic spirit of the times — and according to reliable trend patterns, many of these names are poised for a major comeback.
If you're like me, and love the classy, graceful, dashing, and debonair, you'll love these vintage baby names inspired by all types of superstar performers — and social activists — of yesteryear.
This is a unisex name, but it's inspired by one of the biggest movie stars of the 1930s: Jean Harlow (whose name at birth was actually Harlean Harlow Carpenter). Her platinum-blonde hair gave her the reputation of the original "blonde bombshell."
Born Greta Lovisa Gustafsson in Stockholm, Sweden, she would go on to become the legendary Greta Garbo, nominated three times for an Academy Award. Bonus: this beautiful and underrated name is once again in the public eye, thanks to environmental dynamo Greta Thunberg.
RELATED: 18 Names For Girls Who Will Kick A** When They Grow Up
This name is a testament to the versatility of the name Elizabeth (which is a great and glamorous baby name choice in itself … just look at Elizabeth Taylor!). Ruth Elizabeth Davis grew up to be known by her nickname — you guessed it — Bette, and her acting career spanned 60 years and 100 film credits.
An actress of both the screen and the stage, Ingrid Bergman was the talented recipient of three Academy Awards, two Primetime Emmy Awards, a Tony Award, four Golden Globe Awards, and a BAFTA Award.
RELATED: 25 Super-Cool Scandinavian Baby Names
German-American actress Marlene Dietrich's birth name was Marie Magdalene Dietrich — but her nickname was Lili Marlene, which gave way to the name she'd be known by all over the world.
In Hedy Lamarr's case, her name was actually short for Hedwig (yes, like Harry Potter's owl!). But though she's best known for her stunning looks and screen presence, that's not the coolest thing about her. This beauty also had a big, beautiful brain, and was an inventor who pioneered technology that formed the basis for the WiFi, GPS, and Bluetooth communication systems we know today.
RELATED: 15 Girl Names Inspired By Badass Women In STEM
Thanks to the recent popularity of singer Billie Eilish, this name is expected to be one of the fastest-growing girl names of 2020. But before Billie Eilish was even a gleam in her father's eye, there was Billie Holiday, whose illustrious three-decade career as a jazz singer still influences jazz and pop music today. (Her birth name sounds just as glam, TBH; it's Eleonora.)
Once rejected from a chorus line on the basis that she was "too skinny and too dark," the indomitable Josephine Baker went on to become one of the most photographed women in the world, and the highest-paid entertainer in Europe. She served in the French Resistance during WWII, becoming a sub-lieutenant in the Women's Auxiliary Air Force, before enjoying an illustrious career in the U.S. and a champion of civil rights. Oh, and did we mention she adopted twelve children in the process?! Bad. Ass. Mama.
Tallulah Brockman Bankhead was an actress who reached her highest fame on the stage, and was as renowned for her "non-traditional" behavior (which included chain-smoking and bourbon) as she was for her sharp wit and colorful personality.
Julia Jean Mildred Francis Turner traded in her birth name for a much shorter stage name: Lana. During her career which spanned 50 years, Lana Turner achieved fame as both a pinup model and actress. Change up one letter and you've got another classic Hollywood name: Lena, as in Lena Horne, whose 70-year career encompassed singing, dancing, acting, and civil rights activism.
This surname-turned-first-name is a perfectly gender-neutral choice; actress Greer Garson, whose birth name was Eileen Evelyn Greer Garson, was given her mother's maiden name. From 1942-1946, Greer was one of the top ten box-office draws, nominated for six Oscar awards and winner of "Best Actress" in 1943.
Before he became the first black man to win an Academy Award, Bahama-born Sidney Poitier moved to Miami at age 15 to live with his brother. When he relocated to New York to pursue a career in acting, he was so poor that he slept in a bus station. Despite the obvious difficulties in finding a role as a black man, he was never afraid to turn down roles that he considered demeaning, and became not only a successful actor but an influential voice for civil rights.
A definitive leading man in the golden age of Hollywood, known for his debonair demeanor, Cary Grant was practically a household name. Though his birth name (Archibald Alec Leach) didn't seem like a suitable stage name at the time, it's definitely making a comeback today — or at least its diminutive, Archie, is.
RELATED: Thanks To The Royal Baby, We May Be Seeing More Of These Baby Names
The term "Latin lover" was coined in homage to the tumultuous but passionate love affairs of famed actor Rudolph Valentino, whose real name was quite a mouthful: Rodolfo Alfonso Raffaello Pierre Filibert Guglielmi di Valentina d'Antonguolla. And even though Valentino itself is on the long side, you could use Val, Valen, or Tino as diminutives.
With more than 80 film credits under his belt, Academy Award-winning actor Gary Cooper was considered one of the greatest actors of his time, particularly in regard to Westerns. Behind the scenes, he was known for his humongous appetite. (OMG, same!) Though the name Gary is currently at #674 on the Social Security baby name popularity charts, and hasn't been out of the top 1,000 names since 1900, his last name — Cooper — has a more contemporary sound as a first name, which is why it's currently standing at #83.
Orson Welles was one of only a handful of actors ever to win an Oscar for his first-ever appearance on screen, but he was a renowned director, writer, and producer as well. At just 25 years old, he wrote, directed, and starred in the movie Citizen Kane, which is still considered one of the most influential films of all time.
The name Spencer is a perennial favorite — it's been one of the top 500 most popular boys' names since at least 1900. When Spencer Bonaventure Tracy was born that very year, in fact, it was #324 on the list. The first actor to win back-to-back Oscars, he was an in-demand personality … and romantically linked to starlets such as Katharine Hepburn.
Roy Harold Scherer, Jr. doesn't sound especially exciting, but most people know him as Rock Hudson, a name bestowed upon him by a talent scout. Long considered the epitome of the "leading man" onscreen, he became a Hollywood heartthrob — no one, at least not in the public eye, realized he was gay. The name Rock became popular, peaking in 1957, but the name Hudson holds strong and currently stands at #54 on today's charts.
RELATED: Earthy Elemental Names For Baby Boys
If you've ever seen Singin' in the Rain, you're familiar with Gene Kelly's sweet dance moves. In fact, he ranked right up there with Fred Astaire in terms of popularity — although while Fred danced in a top hat and coattails, Gene Kelly's style was more casual. His handsome face, abundant energy, and likable characters catapulted him to super-stardom. But wait: there's another famous silver-screen Gene, and this one's female! The founder of 20th Century Fox called Oscar-nominated actress Gene Tierney "unquestionably the most beautiful woman in movie history," and she had over 40 film credits.
Though during his career he was nominated for an Academy Award five times, Gregory Peck only won once: Best Actor, for his performance in the movie adaptation of To Kill a Mockingbird. But his most important achievements were off-screen — he was a vocal activist for civil and workers' rights, receiving the Jean Hersholt Humanitarian Award in 1967.
They may not be the stars whose daily lives we follow in Us Weekly, but these retro celebs still have an appeal today. They possessed a level of class and style that we rarely see in the age of reality TV, and these glamorous baby names are a nod to the golden age of the silver screen.
For more baby name inspiration, including fun lists and baby name meanings, check out Scary Mommy's baby naming section!
This article was originally published on