Classic Toy Soldiers Ditch Machine Guns And Pick Up Yoga Mats
by Ashley Austrew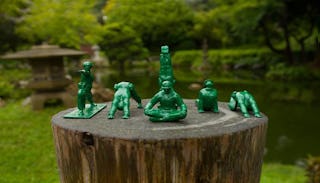 Remember those little green plastic soldiers of your youth? Well, one creative designer gave them a makeover that's got them striking a different kind of warrior pose.
Dan Abramson, a San Francisco yoga devotee and the genius behind Yoga Joes, wanted to create a way to get more boys, men, and especially veterans to add a little more downward-facing dog to their daily routines. Abramson became a fan of yoga after he began using the practice to treat a back injury, and he thought it might be able to help others on their path to mental and physical health.
RELATED: Feeling Extra Bendy? Give These These (Hard!) Advanced Yoga Poses A Shot
To bring his yoga-love to the masses, he created a unique twist on a classic toy and launched a Kickstarter to complete the project. The Kickstarter ended up raising more than double his $40,000 goal, and it resulted in the creation of Yoga Joes — classic green army men who are in traditional yoga poses instead of a fighter stance.
Yoga Joes are gender neutral — though they're available in both green and pink — and designed not only to promote the benefits of yoga, but also to show what Abramson calls "the good qualities that soldiers should be known for." He describes them as "peacekeepers" and "trying to do the right thing," and he says they're meant to be inclusive and promote positive ideas about men and women in uniform.
So far Yoga Joes have been insanely popular, especially among military families. Not only have they been a hit among PTSD sufferers who use yoga to cope with their symptoms, but they've also struck a chord with families of deployed soldiers who want their kids to be able to celebrate their heroic mom, dad, or other relative without being reminded of danger or violence.
Abramson told Buzzfeed he's gotten ecstatic emails from parents, like a mom who won't allow violent toys in the house because her husband is deployed in Afghanistan, but got Yoga Joes so her kids could still play with soldiers. Says Abramson, "She's overjoyed that her kids can play with soldiers without feeling anxious about their dad."
I never would've considered the need for a toy like Yoga Joes, but judging by the response they're getting, Abramson was brilliant to make them. Not only do they promote yoga and physical and mental health, but they also present a very positive and human side of the traditional soldier. A G.I. Joe or even the original small plastic soldier doesn't necessarily make you think of a real person, but something about these little guys does.
It's heartwarming to think of little kids with deployed loved ones getting a chance to play and celebrate their heroes without being glued to the stereotypical battlefield scenario. Plus, there's something hilarious and endearing about a little green army dude (or dudette!) standing in Tree Pose. Abramson's goal was to give a unique spin to a classic childhood staple and I'd say he succeeded admirably.
This article was originally published on