Claudia Conway Auditions On The 'American Idol' Season Premiere
by Christina Marfice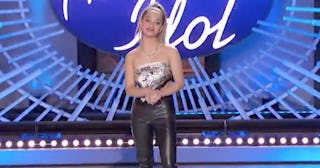 AmericanIdol/Twitter
Claudia Conway auditioned for American Idol, and both she and her parents will appear on the new season's premiere episode
Most of the headlines we see about Claudia Conway absolutely break our hearts — like when she revealed to her online following that she was Kellyanne Conway's daughter during the Trump administration, when she secretly recorded what appeared to be Kellyanne viciously berating her, and her pleas for help and emancipation from her family. But in light of all the public turmoil that has surrounded the Conway family, this news is pretty surprising: Claudia apparently auditioned for the upcoming season of American Idol, and she (and both of her controversial parents) will appear in the premiere episode this weekend.
A preview for the episode was shared on social media, and it seems to confirm that Claudia's storyline will make the first episode and be featured. It also shows clips of her meeting with her dad, anti-Trump lawyer George Conway, and talking to her mom on a large screen. It also shows a little bit of her time with the judges, explaining who she — and her parents — are.
To say that this is confusing is a little bit of an understatement. Kellyanne Conway is currently under investigation for allegedly sharing nude photos of Claudia, who is 16, on her Twitter account. There haven't been a lot of details about that situation publicly released, but no matter the circumstances, it's pretty horrifying for a teenage girl's nude photos to make it onto her mother's social media account for any reason — even if she was hacked, why on earth did she have those photos on her phone?
And then there are the abuse videos. Even if the nude photo leak was an absolute accident, there are videos online where viewers can hear someone who sounds like Kellyanne calling Claudia vicious names and telling her things like, "You're lucky your mother doesn't believe in abortion." Claudia has openly accused her mother of verbal, emotional, and physical abuse. It's absolutely sick that there's video evidence of that happening and no one has intervened on Claudia's behalf. She needs help from adults, not a TV appearance.
We've known since back in November that Claudia had auditioned for American Idol. That means that her audition was most likely filmed before some, if not all, of these scandals happened.
The new season of American Idol (and the episode that will feature Claudia's audition) premieres this Sunday, Feb. 14.