Claudia Conway Posts Disturbing TikToks Of Mom Kellyanne Being Abusive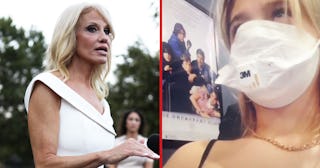 Alex Wong/Getty and Claudia Conway/TikTok
Claudia Conway shared audio clips of Kellyanne threatening her life and screaming at her
Claudia Conway, daughter of former right-hand-woman of Trump, Kellyanne Conway, has shared another series of TikTok videos that don't paint her mom in the best light. In the videos, a voice that sounds exactly like Kellyanne's can be heard shrieking abusive threats and put-downs directed at her teen daughter.
In the disturbing TikTok videos, a woman Claudia says is Kellyanne (and it sure sounds exactly like her) is screaming at her and saying, "You're lucky your mom's pro-life." Claudia titled the first video "A Covid recap with Kelly," which apparently documents their time at home during the last several months.
It was Claudia who confirmed the intel surrounding Trump's health when he was diagnosed with COVID-19 back in October. She posted on TikTok Oct. 5, "guys lmao he's not doing 'better'," and "he is so ridiculous. apparently he is doing badly lol and they are doing what they can to stabilize him."
Claudia also broke the news that Kellyanne had COVID on TikTok as well, showing a clip of her mom trying to control what her daughter was sharing, and also video of them arguing. Both she and her father, George, contracted COVID-19 from Kellyanne. She posted that her mom told her she was negative when, in fact, she was positive.
In the video, posted Jan. 19, you can hear Claudia's mom say: "F*ck you, f*ck you. It's over, it's over—I don't care who's following you, dumbass." She also adds the horrifying, "You're lucky your mom's pro-life."
In reference to the infamous and extremely predictable COVID diagnosis, Kelly apparently said, "You can't get coronavirus from the president," the woman said, seemingly referring to Trump's October diagnosis.
LOL. What?!
In another clip in the video, she says, "I can get you taken out of here today," apparently referring to Claudia. "You don't f*cking listen – what the f*ck is wrong with you?"
She accuses Claudia of being a liar, and proceeds to call her an "ungrateful b*tch."
A second video posted shortly after shows the abusive behavior continuing with Claudia alleging that her mother is hitting her. It's hard to watch.
Now here's the thing. A lot of people who have followed the saga of the Conway family via Claudia's social media presence have elevated her to some sort of "hero" status. The problem with that is that while it's undeniably satisfying to see that Kellyanne is truly the heartless ghoul we always assumed she was and to have those assumptions validated, her daughter is living in turmoil. Abusive turmoil. It doesn't matter how privileged you are, abuse like that only serves to break a kid down and give them a lifetime of trauma to process through.
"She's probably going to publicly say that she's not abusive and whatnot, but that's what manipulators do and narcissists," Claudia said in the video. "I'm not looking for attention. I'm not looking for anything. I'm in a situation that's really physically, mentally, and emotionally abusive and I think it's important that everybody sees that. I know that all my mom's friends and family are going to say that I'm lying, I'm looking for attention, but I'm not. I have proof."
The fact that she already anticipates people in her life invalidating her is one good example of why abuse victims don't come forward. Let this be a lesson.
In a video posted later, Claudia told her 1.5 million TikTok followers that she "will not leave social media on my own accord" and if she stops posting, it wasn't her choice.
This article was originally published on