The 5 Stages Of Cleaning Your Kids' Nasty Car Seats
by Erika Watts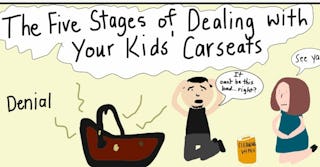 Erika Watts
The instruction manuals that came with my kids' car seats prepared me for lots of stuff. It told me how to check to see if the seat is level, how to recline it, what to do with the tethers, etc. Loads of information was included in that thick — yet small, with ridiculously tiny font — manual. Despite the information overload, I feel like the manuals are a little…lacking.
RELATED: The Best Baby Car Seat Covers To Protect Your Precious Cargo From The Elements (And All Those Cheek Pinchers)
You see, if I'm remembering correctly, we've had two infant carriers, six convertibles seats, and one booster. And that's all for two kids (it sounds rather extreme, but a couple of the seats were upgraded simply because we were able to afford something nicer later, and at least one replacement was anxiety-related). And let me tell you, while the manuals have tons of information, they pretty much gloss over the cleaning part. They tell you that you can clean the cover using warm water and a gentle cleanser. This makes cleaning car seats sound pretty easy, right? Furthermore, some car seat manufacturers don't advise tossing the covers in the wash, so again, you'd think that cleaning would be not at all difficult.
Unfortunately, the first time you pull the car seat out to adjust the straps or perhaps vacuum out the Goldfish cracker crumbs (because you're a bit naïve at this point), reality comes crashing down, and you'll find that the manual really understates the cleaning aspect. You'll quickly realize that what the manual really needs is a section on how to first come to terms with just how gross your kids can be. You see, the moment you get up close and personal with the car seat and see the horror that is produced by your precious, beautiful offspring — well, you'll need a minute. You'll have to cope. And then you'll have to find gloves, a gallon of Lysol, a flathead screwdriver to chisel away gunk, and maybe even a pressure washer to blast away some of the hard-to-clean bits.
It can be second-rate horror movie bad — think The Fly II with a slightly less ick factor. And there will be cursing. Lots of cursing. So, it's probably best to wait until the kids are either in bed or with the grandparents before you undertake this task. Otherwise, your kid's preschool teacher might be telling you that your toddler is corrupting the other children with her advanced knowledge of four-letter words at pickup time.
If you've been brave enough to remove your child's car seat from the car and clean it, then you can probably relate to the stages doodled below. If, like many parents, you've avoided looking directly at the car seat for a while because you know it's probably kinda gross, but no longer want your child to ride around in a mini cesspool, then here's what you can expect:
After that fist time, you'll probably declare that no more food or drinks are to be consumed in the car. You'll change your mind, though, no matter how determined you are. At some point — probably within a day or two of making the "no food" declaration — you'll realize that the only way to stop yourself from developing a road rage of sorts and going off on your kids is to give them snacks. Snacks will turn into drinks and that will eventually turn into getting kids' meals from drive-thrus, and then the filthy car seat cycle will start again.
Isn't parenthood grand?
This article was originally published on