You Can Clone Your Favorite Penis Because Dreams Really Do Come True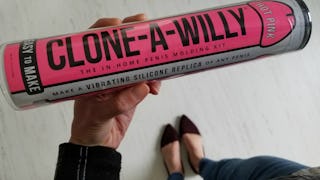 Katie Bingham-Smith
Have you always felt as though your vibrators weren't quite authentic enough? Do you long to have an erect penis to have and to hold whenever the mood strikes? Not just any penis, though, you have a specific penis in mind. Only one penis will do.
Maybe you're an afternoon gal, and your partner has an important meeting and can't sneak away for an afternoon delight. Wouldn't it be amazeballs to have your way with his penis anyway?
Well, if you've ever had thoughts like this, I am about to spread some fucking cheer. Literally. You can now clone your favorite dick and take it with you wherever you go, display it on your dresser, or keep it hidden away with your cuffs and chocolate body paint.
No, this is not a drill. I mean, the finished project is kind of like getting drilled, but you know what I mean, cloning the perfect pecker is no longer a dream — it can be your reality.
Clone-A Willy is a do-it-yourself sexy art project to make with your favorite love pump and its owner. You can literally have a replica of your favorite dong in no time at all. You can request to have your man surprise you by delving into this project himself and creating a mold of his willy, or you can do it the fun way and get your X-rated Martha Stewart on together.
There are different colors to choose from, some of which even glow in the dark, but I highly recommend the Plus Balls kit. If you're going to do this, why not have it be as realistic as possible? You gotta have balls.
The kit comes with body-safe molding powder, a thermometer, body-safe silicone, a vibrating unit (yes, please), and a stick to stir it all together to create a bulging life-like masterpiece that's sure to bring you hours of pleasure.
You will need to provide a few things you probably already have on hand: a piece of cardboard, measuring cup, a large bowl, timer, scissors, large spoon, disposable container, duct tape, and the most important member of all — an erect penis.
Now, if you are thinking you might run into a few road bumps along the way and won't be able to join in the fun because of too much hair on your partner's special place, fear not. Simply slather his nuts and berries with petroleum jelly before you get started.
And if you're concerned about curvature, don't let it stop you. Simply visit cloneawilly.com/curved. They will set you straight and talk you through it.
While the instructions are pretty easy, you must follow them exactly and pay attention to detail. Give yourself some time with no distractions like children or annoying cellphones going off. Your helper needs to stay erect for a bit, so the whole process needs to involve some stimulation.
Just don't forget to throw down a drop cloth, this shit gets messy.
First, you mix the powder with water and stir for 45 seconds. Make sure the water temperature is 90 degrees — don't screw this part up or no fun stick for you later. Also, it might be a bit lumpy when you are done — that's okay! Think of them as fun bumps for your love canal. Ribbed for your pleasure, babe.
Then you pour the mixture back in the tube and have your partner insert their yogurt cannon in there as soon as possible. He needs to leave it in there for 1–2 minutes — and will feel the silicone hardening around his dong. That's what's supposed to happen. Don't let him whine about it.
Next, mix up some more silicone and pour it in the penis-shaped hole, add the vibrating unit, and let it harden for at least 24 hours. The waiting might kill you, but just think, you have the rest of your life to play with your new, custom-made pleasure stick.
When all your hard work is done, you are left with a very authentic, one-of-a-kind, vibrating dildo that is going to be a hella fun way to get your jollies off with or without your model.
And it was all done in your own kitchen! Go you.
Now if that's not an art project worth pinning, I don't know what the hell is.