Clothes That Kids Love AND Will Arrive Before Christmas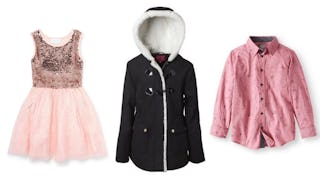 Images via Walmart
Since kids outgrow their clothes every 3.5 seconds, we're always looking for new stuff they'll actually like.
Here are some cute styles to put under the tree that they'll love opening. Let's face it, they all need new sizes of everything anyway.
The best part? These adorable options are available with 2-day shipping, so they're perfect for anyone looking to add to their kid's holiday gift stash:
These Slim-Fit Jeans look sharp and are always comfortable. They're available for $15.88.
These Long Sleeve Shirts are available in a variety of colors and at $9.42, you can afford to get extras. And if your son loves the dirt as much as mine does, you'll need them.
This Short Sleeve Polo 2-Pack comes with different color options and is a great deal at $9.94.
Rugby Polos are another great option for your sports-loving kids. Or for the ones who just pretend to love sports. And they're available for $8.32.
This Trucker Jacket has sherpa lining and is perfect for cold weather. And it's on sale for $15.00. (Originally $23.99)
This Wool Jacket is perfect for boys sizes 10 and up. This one is currently on sale for $15.00. (Originally $28.98.)
These Slip-On Dress Shoes are so freaking cute and they're currently on sale for $11.00. (Originally $15.97.)
This Floral Print Dress will add a little spring to winter. And it's on sale for $3.00 – $7.00. (Originally $11.44.)
This Holiday Dress is a great present for the upcoming New Year's Eve party and it comes in red or black/white. And it's only $11.44!
This Sequin Dress is sure to make every kid who loves sparkly stuff happy. And it's on sale for $20.00. (Originally $39.95.)
This Cardigan Sweater pairs perfectly with any dress, and it's also only $11.44.
This Cable-Knit Leggings 2-Pack is another must-have for winter and they pair perfectly with any set of boots. And they're on sale for $8.00. (Originally $10.88.)
These Youth Boots are available in brown, black, or gray, and they're currently on sale for $29.95. (Originally $54.99.)
This super comfy Plush Sherpa Hoodie is available in different colors, with different sequin critters, for $14.88.
This sherpa-lined Toggle Coat comes in classic black or in pink and is available for as low as $22.45.
These Wonder Woman Sequin Sneakers are adorable but do not come in adult sizes, unfortunately. They're currently on sale for as low as $14.99. (Originally $19.99.)
This retro-style Wonder Woman Tee is a great match for their sparkly, new kicks (see above). And it's a great deal at $7.88.
Shopping for LITTLE little ones? This 3-Piece Set from Carter's for babies and toddlers includes a hooded cardigan, short sleeve bodysuit, and pants…and is a great deal for as low as $10.00.
The kids will be happy to find some extra boxes under the tree, and you'll be happy they have some cute, new clothes that actually fit them — and fit in your budget!
We are a participant in the Walmart.com Affiliate Program and may earn fees by linking to Walmart.com and affiliated sites.
This article was originally published on