This All Clown Screening Of 'It' Is Your Worst Nightmare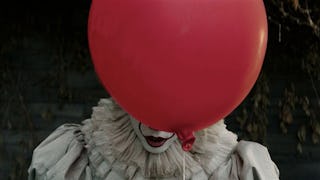 Image via YouTube
LOL, no thanks
Hello and happy Friday. You're probably gearing up for a fun, end-of-summer weekend not at all haunted by nightmares of a darkened movie theater full of murder clowns in every seat, yet, here we are. That's because a theater in Austin, Texas has decided to make our realest fears come to life by hosting an all-clown screening of the new adaptation of Stephen King's "It."
Ha. Ha ha ha. NOPE.
This manifestation of all things evil is brought to us by the same folks who hosted the all-women screenings of Wonder Woman earlier this year. That's right; Alamo Drafthouse in Austin both giveth and taketh away. Taketh away control of our bladders basically, because a dim theater full of clowns is enough to make me pee myself. Actually, a dim theater full of people who find it fun to dress as clowns even if they aren't real clowns is also enough to render me mute with fear.
Because did we mention this movie looks legit terrifying? Check out the trailer to refresh your memory a little. Want to watch this surrounded by demon clowns? In the dark?
We didn't think so.
According to the theater's website, participants should come to the door on September 9th all clowned the fuck out. "Please arrive in your own Pennywise best and be ready to float with us."
Nope. Nope nope nope nope nope.
There's also an Alamo "It" pre-party before the movie complete with "face-painters available for clown "touch-ups", a photo booth, raffles for prizes, and other terrifying merriment."
Merriment? More like murderment. Which I realize isn't a real word, but these are tough times we're living in. All-clown showings of "It" times.
Jesus, make It stop. It. See what I did there? Sorry, I use humor to cope.
The death clown-stravaganza is happening at three Alamo theaters and one is already sold out. Great news, though — the Slaughter Lane location still has tickets.
Slaughter. Lane. To see "It." Surrounded by stabby clowns.
We're all going to float right the hell out of this shit.