There Have Been 2 Reports Of Clowns Chasing Children In The Last Week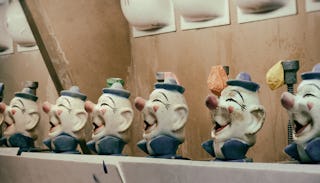 Image via Shutterstock
Clowns chasing children is a thing now and seriously, what the hell is going on?
Alright, weirdos. Give it up. Is there some Reddit board we need to know about where people are plotting to dress as murder clowns in order to terrify children? The first few stories were merely creepy but now, it's personal. Two cases of people dressed as clowns chasing kids have surfaced this week.
And us moms are fed the hell up.
In an incredibly disturbing trend, creepy clown sightings are popping up all over the country. From the slew of appearances in a South Carolina town to the one who actually got caught last week in Kentucky, these crazy assholes don't seem to be going away any time soon.
Now, there are tales of clown evil out of New York and New Jersey that will send chills up your spine. And they both involve children being chased.
In Syracuse, NY, CNY Central reports that a 10-year-old boy walking to school saw three people dressed in clown costumes. The child explained to police that once the clowns spotted him, they started walking toward him. He ran away and called 911. He was found hiding between two houses, terrified.
The boy was able to describe the clowns to police but a search hasn't turned up any suspects. Other children came forward saying they saw the clowns too with a second boy also claiming to have been chased. According to police, the clowns' actions of harassment and loitering are crimes, and as they could pose a danger to children, "will not be tolerated."
And now, New Jersey. Where the clowns are more than simply creepy; they're carrying deadly weapons. According to CBS New York, there have been reports of clowns chasing children (seriously, what the fuck?) in the town of Phillipsburg. Tyler Carpenter says he was walking home through an alleyway when he spotted a clown wearing a white mask dressed in green and yellow.
Carpenter says, "He had a sword," and guesses it was a katana. He also heard the clown say, "I'm gonna getcha" before the boy ran away. Tyler's mom Crystal Carpenter says she's never seen her son so scared. "He was so out of breath by the time he walked into the house. He said, 'I was scared.'"
We are right there with you, Tyler. Personally, I might have needed new pants after an encounter like that.
Tyler wasn't the only kid in Phillipsburg to see a scary clown. This past Sunday, three clowns reportedly emerged from the woods at a park and chased another child.
Any other parents ready to mess up some clowns? I take boxing classes and would love a chance to use my right hook on some douche-bag who finds it funny to terrify and threaten small children. Honestly, what kind of bullshit is this? Clowns, even in their most innocent and well-meaning incarnations, are still scary as hell. But a clown creeping in an alleyway or a wooded area waiting to ambush little kids? You sir (or ma'am?) are fucking evil and need to be locked away.
We parents have enough to deal with without having to worry that our kids are being chased by scary asshole clowns on their way to school. Hopefully, this is a stupid trend that will soon die out. In the meantime, let's hope no one actually gets hurt.
This article was originally published on