This Inspiring Teacher Is A CMM — Certified Meep Maker
by Kimberly Zapata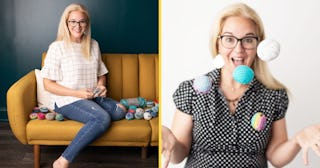 Courtesy of Heartlove Photography
Meep is not a new word, or a foreign word. In fact, the origins of the word — which describes a short, high-pitched sound — date back to 1920. But the Meeps we are talking about today aren't noisy. They aren't auditory, and they don't speak or make a sound. Instead, they are cute, cuddly, soft, and squishy emotional support orbs. (Yes, really.) But what is Meep and, more importantly, what the heck is an emotional support orb? Well, in short, emotional support orbs are small crocheted creatures designed to help you when life gets too heavy, or " lifey." They are handmade, hacky sack-sized critters designed to carry stress and help you decompress.
"Meeps are mighty and they like to hold things, especially heavy things. Meeps are designed to be there for you and to help you hold your heavy stuff when life is getting a little too life-y," a description on All You Meep Is Love explains. "All you need to do is give your meep a squeeze and they will hold your heavy stuff for you, for however long you need."
"All You Meep is Love is a kindness movement," the website continues. "It is a way to spread love, healing, and kindness to others."
Meeps are the brainchild of mother and English teacher Maura Moore.
"I've been teaching for almost 20 years now," Moore tells Scary Mommy. "And I absolutely love my students. Teaching is an amazing profession. You get to connect to people in a way you don't often get to in other professions. I also love that I am able to share my passion for Meep making with them. In fact, my students are the biggest cheerleaders of my Meeps."
"They also inspire me," Moore adds. "Each week, I mail six students — one for each class I teach — a Meep. I call it Meep of the Week. At the end of our last class, I talk about one student and the amazing things they've been doing. Then I announce who it is and show the class the Meep they've won. I hope that they help them feel seen, and special, and help them to see that their teachers care about them. That I care."
But Moore's mission extends far beyond the classroom. In 2019, Moore made her first Meep — a black hole — for a friend, and since then, she's been making Meeps for friends and strangers alike. Moore sent me a Meep shortly after reading an article I wrote on trauma. Why? Because Moore wants to spread kindness and compassion. She wants to offer virtual hugs, love, and support.
"What I hope to accomplish with Meeps is two-fold: I want to put more kindness into the world. Life feels so much better with kindness. I feel so much better with kindness, and I love hearing stories about how Meeps help," Moore says. "I love hearing about people who are making them for others. It feels so amazing to see this ripple effect that has started because of one moment where I chose to be kind… the other thing I hope to do with the movement is to remind people that power we have. I get to talk to a lot of people going through trauma because of Meeps. I hear a lot about the 'lifey' things that they are struggling with, and my hope is that I can help people feel seen, loved, and empowered to encounter their struggles in a way they might not have realized they could."
"Sometimes with trauma we feel helpless or alone," Moore adds. "But I want to remind people that while that may be how it feels, we do have choices, and with those choices comes a lot of power."
Amazing, right? But you haven't even heard the best part: While we love the story behind Meeps and Moore's mission, our favorite part may be the adoption process. Because you don't buy Meeps. Moore doesn't sell Meeps. Instead, these sweet, supportive creatures come into your life when you need them. You simply need to pay $5 shipping and handling for up to five.
You can also download the pattern. Yes, Moore will share her Meep making secrets with you, provided you complete an agreement form that says you will not sell the Meeps or the pattern to ensure that Meeps stay a kindness movement and are not for profit.
Don't need a Meep but know someone who does? Adopt one on their behalf. The small but mighty critters can brighten even the darkest days.
This article was originally published on