College Admissions: A 5-Stop Pop Culture Tour
by Laurie Ulster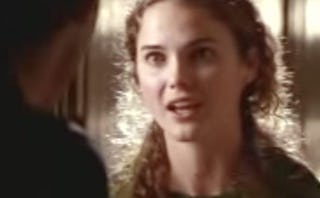 Ah, spring. Clean out the garage. Fire up the grill. And, if you are a Mid parent, take your darling daughter and glorious son on the much anticipated "college tour." To prepare you for what lies ahead, we put together five great pop culture college movie moments. Be strong.
1. Felicity
As you may recall, Felicity (Keri Russell) dropped her plans for pre-med and switched colleges on a dime, all because of something Ben (Scott Speedman), her high school crush, wrote in her yearbook. That was all very romantic, until she arrived on campus and he didn't remember her name. Ouch. For parents, it's a textbook lesson in realizing that your kid may be choosing his or her college for reasons you know nothing about. Be prepared to roll with the punches.
There isn't a mother alive who wouldn't want her relationship with her daughter to be just like the one that Lorelai and Rory Gilmore (Lauren Graham and Alexis Bledel) have. The coffee talks! The pop culture banter! The fact that they can wear the same size jeans! When Rory's envelope from Harvard arrives, signaling their impending futures away from each other, they just happen to be sitting around together watching The Brady Bunch Variety Hour. Our takeaway: Enjoy those goofy moments before you find out how much you're going to miss them.
3. The Sopranos
The Sopranos may not have been your typical family, but watching Meadow (Jamie-Lynn Sigler) ask Tony (James Gandolfini) if he's in the mafia—and seeing him try to answer her with some honesty—will remind you that secrets are often revealed when you're on a road trip. She makes a confession of her own, admitting that she and her friends were taking speed for a while. Even Tony knows that kind of father-daughter bonding time might not come again, so once he gets over his initial impulse to find and crush whoever sold it to her, he agrees to keep his mouth shut. This is the time to listen.
4. Legally Blonde*
It's hard to resist helping your kid with that college application essay. If you're going to get involved, at least recognize that times have changed, and the earnest, heart-on-your-sleeve personal essay isn't going to cut it anymore. If Legally Blonde taught us anything, it's that knowing how to use Quick Pro helps, and so does having a personality that stands out in a crowd. It just might be what moves them to the top of the list. (*Technically this movie is about law school, not college, but still.)
5. Animal House
Animal House was once a gleeful celebration of college life, but now it's a handy cautionary tale about how not to spend a kid's time and a parent's money. But let's not get all Dean Wormer (John Vernon) about it: The movie is still pretty friggin' funny. We figure, after a week on the road spent contemplating the major next steps in your lives, you and your future freshman could both use a laugh.
This article was originally published on