College's Facebook Post Makes Parents Everywhere Burst Into Tears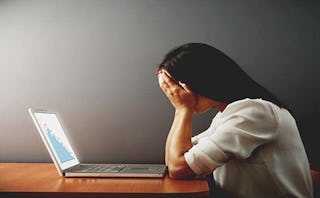 A Facebook status posted by San Diego State University before the start of the 2014 academic year is making the rounds again, thanks to a bunch of moms and dads like myself who like to remain in sweet, sweet denial of the fact that eventually their babies are going to have to leave home.
I miss my freedom just as much as the next mother of young children, but the idea that someday these little beings are going to walk out the door and into their own apartment is… surreal. I imagine that parents who are prepping their kids for college in the fall must be feeling a similar sense of "what the hell is going on?"
Thanks to the Grown and Flown Facebook page for reducing me to a weepy mess last night, after they uncovered the post and re-circulated it. Here it is:
"When your mom wants to unpack all your clothes and make your bed – let her. When your dad wants to introduce himself to all the people on your floor – let him… let them treat you like their baby one last time."
To all the parents using this summer to prepare for your child's departure – remember that leaving the nest is a good thing. You've done a good job. The goal is to create independent individuals who can handle the world on their own. As the famous poet Kahlih Gibran said, "You are the bows from which your children as living arrows are sent forth."
I'm going to go cry into a pint of ice cream now.
By the way… my kids are two and four.
This article was originally published on