This ColourPop x Disney Collection Is The Stuff Dreams Are Made Of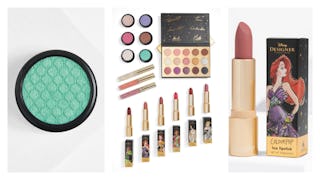 Image via Colour Pop
The ColourPop x Disney Collection will make you feel like an actual princess
Attention all Disney fans and makeup lovers alike. The beauty brand ColourPop has teamed up with the animation company to create a limited edition Disney Designer Collection which is brimming with just about the brightest, prettiest makeup products you'll ever see. Caution: these will make you want to flounce around the house, while singing the entire soundtrack to Beauty and the Beast. There is zero shame in that.
The new line will be available at ShopDisney.com and ColourPop on September 28th, which means you should probably start gearing up your pumpkin carriage ASAP. The kit, which rings in at $110, is packed with six Lux lipsticks made special for each princess, six Super Shock Shadows, a Princess Thing Palette, and 3 Ultra Glossy Lips.
Okay, now let's take a closer look. First up, the lipsticks. There's Snow White, which come in a bright red creamy matte and will make you want to eat all the juicy apples. It's also filled with hydrating butter, so your lips won't get all icky and chapped.
Then there's Tiana, which is a richer, deeper rouge. Your frog prince will wholeheartedly approve.
The ultimate coral pink lipstick for the ultimate coral reef mermaid.
Prepare to be the belle of just about everything, with this berry red lipstick. We'll turn a blind eye to the movie's problematic beast/human love story for the moment.
If you're feeling a little more adventurous, slap on Jasmine's hot pink lip color. Magic carpet sadly not included.
Turning into a pumpkin probably wouldn't be quite so terrible, if you had this delicate pink lipstick to wear beforehand.
Then, there's the eye shadows which deliver tons of pop, have a creamy texture, and come with a hint of glitter. Oh, and they're also named after different Disney songs. Be still our animation-loving hearts.
Meet: A Whole New World.
So This Is Love.
And Be Our Guest.
If you need even more Disney princesses in your life, you can use ColourPop's palette which is filled with themed colors, like Fairy Godmother (bright coral) and Magic Carpet (dark plum).
Now, go out and live your very best Disney princess life possible. Even if that just means putting on some pretty eyeshadow, dusting off your old VHS tapes, and watching Cinderella while everyone else is fast asleep.
This article was originally published on