Comics Crack Funny Jokes On The Actually Depressing Gender Pay Gap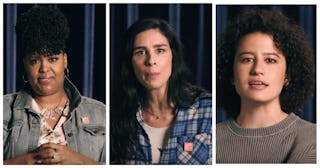 YouTube
Philanthropist Melinda Gates calls upon comics to tackle gender inequality in viral video
Every year, the World Economic Forum's Global Gender Gap Report looks at gender gaps "as they stand today, and projects recent trends into the future to map the likely distance to gender parity," and what they found is frightening. For more than half of the economies covered globally, this parity will take a century or longer to bridge. For the US it's even bleaker — they predict it will take 208 years to close to close the gender gap — and if you need some help with the math, a group of A-list comedians got together to drive home just how ridiculous this is.
Philanthropist Melinda Gates launched a new campaign last week called "Equality Can't Wait" featuring a video reel of comics sharing their feelings on the matter and driving home just how ridiculous it is that there is still such a disparity between men and women. Directed by actress Natasha Lyonne, the video's cast includes Maya Rudolph, Carol Burnett, Nick Kroll, Sarah Silverman, Fred Armisen, Ilana Glazer, and many more. Though their message is delivered with flawless humor, their message is clear — this is no joke.
The video starts with Maya Rudolph introducing the video by saying, "Do you like bad news? Then you're going to love my friend, Melinda Gates." In under five minutes, each comedian delivers information from the Forum report, including gems like, "In 2018, there were more CEOS named 'James' than there were women CEOs."
They also make sure to break it down by dog years (and the rarely seen panda years) to really drive the point across. "That's 1,456 dog years," says Orange Is the New Black's Uzo Aduba. "I'm telling you, bitches never get a break."
Silverman breaks it down even further by saying, "Why is it I can order a bag of dick-shaped gummy bears with same-day delivery but I have to wait 208 years for gender equality?" It makes you wonder.
"Gender parity cannot remain an aspirational ideal. Instead it must become a reality within our lifetimes, creating better outcomes for companies, families, communities and economies," The WEC said on their website. "No single organization or country can achieve this aim in isolation. We need to act together for impact, incorporating the best learnings from around the world." The campaign's website gives readers information about how to get involved now to ensure this 208 year statistic doesn't become a reality.
Though the video is funny, their tone shifts at the end. "You guys know I have three daughters, right?" Rudolph says. "This is actually terrifying."
This article was originally published on