Major Companies Are Publicly Supporting Naomi Osaka— Here's What They Have To Say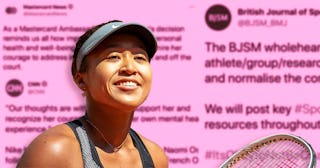 Scary Mommy and Tim Clayton/Corbis/Getty
Protecting one's mental health is important. Regardless of one's job title — director, manager, representative or athlete — understanding your own boundaries, and how far you can be pulled and stretched mentally, provides you with a kind of self-care that is priceless.
With basketball playoffs in full swing and the French Open a go, our attention is drawn to the bold moves female athletes are making on and off the court — like tennis phenomenon, Naomi Osaka, who stood up for her own mental health when she decided to put herself first, to not participate in press conferences following her first round win in the French Open. She opted out of the press conferences for the protection of her mental health, acknowledging her struggles with depression.
On Monday, she announced that she would not be participating in the Berlin tournament, which may mean she will not participate in the Wimbledon games or the Olympics to be held in Tokyo next month. Whatever her decision is, one thing is for sure: other people, like fellow tennis superstar Serena Williams and companies like the Calm App, have her back. Calm, a resource dedicated to meditation, relaxation and mental health support, stepped up to pay the fines incurred by Naomi (to the tune of $15,000!) following her decision to not speak with the press following her matches in the French Open this year. They are also matching that amount with a donation to Laureus, a French youth sports charity.
Calm isn't the only company coming through in support of Naomi Osaka. Many of her other sponsors, such as Mastercard, Nike, Nissan, and Nissin foods, stood in public solidarity as well.
And of course, health organizations from all over the world also applauded Naomi speaking out in defense of her own wellbeing.
The show of support from these companies continues to shed light on the importance of taking care of one's mental health.
Naomi took a bold approach by stepping away from a game she loves in order to put herself first. We saw Serena do it after the birth of her daughter Olympia. But it shouldn't need to be seen as "bold" — it should be normalized. We have to allow for athletes (especially women) to take what they need for themselves since they often give so much of themselves to others.
As fans, maybe we expect too much from our athletes, and maybe press conferences after a game should remind us of that. Press conferences give us another opportunity to learn about an athlete. It gives us a chance to get into the thought process of the win, it provides us with tidbits of information questions geared (usually) at bringing the fan a little closer to understanding their favorite athlete. But in an article about how intrusive these events can actually be, sports reporter Sean Braswell shares, "[R]eporters have to play the game to stay in the game, even if it means acting like automatons stuck in a Westworld-ian loop of bruising access journalism, in which they must pepper their stories with the quotes that prove they were watching the game from the press box and not their couches." He goes on to say, "Postgame interviews filled with mind-numbing questions and rampant clichés are only going to invite the army of robots and publicists to encroach further."
It is through such conferences that we get a little more from our athletes. The question begs to be asked, though: is it fair, and do they owe us more than what they've already given us on the court? The answer is no. It's only their job to bring their best to their sport — to excel on the court or the field — not allow fans unfettered access to their lives.
I can't pretend to know the kind of pressure Naomi is under. I commend her for listening to her body and doing what is right for her. And to be fined for doing so is absolutely, unequivocally wrong. That's like taking a day off work and having our employer fine us because we "should be there."
Naomi's decision, and those of other athletes, reminds us that they have the right to take care of their mental health. Because they may be paid to perform in their sport, but they don't owe anyone anything more than that … especially when it comes at a cost to their own wellness.