120+ Poignant Condolence Messages To Express Loss And Sympathy
by Team Scary Mommy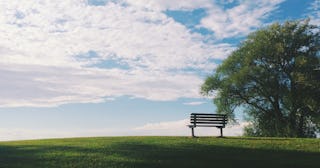 Noah Silliman/Unsplash
Humans, as a group, aren't great at dealing with grief or death. So when someone we know has lost a loved one, it can be hard to know what to say. You want to show your support, and be positive, but not too positive. You want to acknowledge their pain, but not make them feel worse. A lot of knowing what to say comes down to what you know about the person (for instance, if they're someone who uses humor as a coping mechanism). And while there aren't any one-size-fits-all condolence messages that will work for every person and every occasion, there are plenty of options out there to choose from. Here are over 100 condolence messages, sayings, and quotes to help you express your sympathy to others.
Grief is different for everyone, but a kind word can go a long way. Support and sympathy are vital to healing when someone has lost someone. But sometimes, it's really hard to find the right words to say. No worries, we've got you covered.
Here's some extra support if you're dealing with loss. Check out our other pages on grief, which include death anniversary quotes, scattering ashes ideas, and more.
My condolences.
I'm sorry for your loss.
Allow me to offer my words of condolence.
My deepest sympathy.
May they rest in peace.
May their memory be a blessing.
However you are feeling right now is completely valid.
May our friendship and prayers ease you through this difficult time.
You and your family are in my heart and mind.
I am deeply saddened by the loss that you and your family have encountered.
When you love someone enough, there is no such thing as goodbye.
May my condolences bring you comfort and may my prayers ease the pain of this loss.
May your heart heal over time with the help of the memories of your loved one.
Please accept my condolences, just know that I am here for you, please don't hesitate to reach out, especially during this difficult time.
In this sorrowful time, we would like to extend to you our heartfelt condolences.
When someone that you love becomes a memory, that memory will then become a treasure.
Words may not suffice to express the heartfelt sorrow that I feel for the passing of your [person]. Please accept my condolences.
I am thinking about you and sending love.
Wishing you strength for today and hope for tomorrow.
A thought of comfort and condolences to the grieving family.
Gone from our sight, but never from our hearts.
Heartfelt thoughts go out to you in this time of sorrow.
I will be thinking of you in this moment of pain.
I'm always there in your hour of need. May his/her soul rest in peace.
May your heart and soul find peace and comfort.
There are no words.
May the passage of time heal your grief.
Our trials, our sorrows, and our losses are what shape us. With love and sympathy.
Our family is keeping your family in our thoughts and prayers.
Our hearts go out to you in your time of sorrow.
May beauty live on in your memories and bring you peace.
To live in the hearts that are left behind is not to die.
Our joys will be greater, our love will be deeper, our life will be fuller because we shared your moment.
There are no goodbyes for us. Wherever you are, you will always be in my heart.
The goodbyes and tears will morph into memories that you'll hold close to your heart, now and forever.
Can I get you a glass of wine?
Flowers can grow out of the darkest moments.
Please accept my deepest condolences for your family's loss.
Sharing in your sorrow. With love and friendship.
Wishing you peace to bring you comfort, courage to face the days ahead, and loving memories to forever hold in your heart.
Someone so special can never be forgotten.
A great soul serves everyone all the time. A great soul never dies. It brings us together again and again.
Words can't express how saddened we are to hear of your loss.
Words fall short of expressing my sorrow for your loss.
May you be comforted by the outpouring of love surrounding you.
Sharing in your sorrow. With love and friendship.
The darkest hour is just before dawn.
Those we love don't go away, they walk beside us every day.
May you take comfort in knowing there is one more angel above us.
If you get to the point where everything is overwhelming and you need someone to come over and clean your bathroom, let me know.
I'm so sorry you're going through this. Grief sucks and I know there's nothing I can say to make you feel better right now, but know I'm thinking of you.
Death leaves a heartache that nobody can heal and love leaves a memory that no one can steal.
The loss can feel immeasurable, but so can the love that's left behind.
Unable are the loved to die, for love is immortality.
There are times when there are too few words left to heal us, when what we wish for is to be carried, when all we have left is the hope that tomorrow will be a more gentle place to land than today.
It will be little things that we remember—smiles, laughter—and although it is hard right now, the memories of these things will become tools to push away the pain.
May care and love of those around you provide comfort and peace to get you through the days ahead.
Words will not wipe away your tears and hugs may not ease the pain, but hold onto your memories because forever they will remain.
To live in the hearts we leave behind is not to die.
May the memories of your loved one give you strength in the days that lie ahead.
It's hard to forget someone who gave you so much to remember.
Grief is not a sign of weakness, nor a lack of faith.
Grief may change, but it never ends.
With love and remembrance.
A wounded heart will heal in time, and when it does, the memory and love of our loved ones are sealed inside to comfort us.
We understand death only after it has placed its hands on someone we love.
Although no words can really help to ease the loss you bear, just know that you are very close in every thought and prayer.
If you want someone to watch trashy TV and eat junk food with, you have my number.
Do not lose hope. When the sun goes down the stars come out
Today and always, may loving memories bring you peace, comfort, and strength.
Saying goodbye to someone we love is heartbreaking. May you find comfort in all the special memories shared with [name of deceased].
There is no foot too small that it cannot leave an imprint on this world.
Although it's difficult today to see beyond the sorrow, may looking back in memory help comfort you tomorrow.
Death leaves a heartache no one can heal, love leaves a memory no one can steal.
"Blessed are those who mourn, for they will be comforted." Matthew 5:4.
Those we love can never be more than a thought away; for as long as there's a memory, they live on in our hearts.
Our collective hearts are heavy with sympathy. Please accept our most heartfelt condolences.
Nothing can replace the loss of a loved one, but life goes on, and we have to live for those we love.
I believe that tears can heal, memories can comfort, and love lives on forever.
A good heart has stopped beating, but a heart that has touched so many lives can't help but live on in those it loved.
Someone so special can never be forgotten.
Some people come into our lives, leave footprints on our hearts, and we are never the same.
Believing with you in a hopeful tomorrow.
Wherever a beautiful soul has been there is a trail of beautiful memories.
Those we have held in our arms for a little while, we hold in our hearts forever.
I hope that your soul and your heart find comfort and peace even through what is going on right now.
Your family member may be gone from your sight but he will never be truly gone as long as he remains in your hearts.
If there is any way, anything at all, that I can help you get over this, let me know and I will be there.
I hope you at least got some decent casseroles out of all this.
I want to dedicate a moment of silence for the person who has been a part of all our lives, may he find peace now that he is no longer physically with us. No matter what he will always remain in our hearts.
May the Lord watch over you and your family and give you comfort in a time like this that is full of sorrow and pain.
Losing someone is never easy, but eventually, as time passes by, the feeling of sadness wavers and it transforms into pride and the hope that things are bound to get better.
I know that your heart is feeling heavy and that your eyes just want to bawl but know that I am here for you and I will forever be beside you until you eventually get over your loss.
Death is not the end, it is a brand new beginning, it signifies changes, acceptance and I hope that you achieve these things so you can let go and live your life once more.
I will hug you tight, I will pat your back and tell you that everything is going to be alright. I am going to tell you that soon, the sun will be shining again and you will be okay.
There are a lot of things that are out of our control and death is one of those things. I hope that you get to see it for what it truly is: peace and serenity.
You are going to get through this because you are strong. You are going to get through this because you are not alone. As
I give you my condolences, I am also reaching out my hand for you to hold on to.
This is a challenging time period. You just lost a valued person in your life. My condolence goes out to you and the surviving family members.
Keep hoping, believing, and praying. Don't let go of your faith. My condolences go out to you all.
Don't think that all hope is gone since your parents have passed. Chances are you will see them again if you just believe. My condolences to you.
Never stop believing and striving since you have experienced this great setback in life. The loss of your family member is not for nothing. My condolence is for you. You will make it through.
We remember their kindness, generosity, and strength. And as long as we keep their memory alive, they will forever be with us.
Don't conceal or hold back your grief, allow it to wash over you, and allow us to comfort you in this time.
What can the community do to honor their memory and help you during your time of need?
Please know we are thinking of you and your family during this difficult time.
We are so lucky to have you as a member of our office and are saddened to hear of your loss. Please know you are in our thoughts.
Wishing you peace and comfort during this hard time.
We are so sorry to have learned about your loss. We are here for you however needed.
We are saddened to learn of the loss you've had, please let us know how we may help you heal.
Words fail to express my sorrow for your loss. Please know I am with you through this difficult time.
May you find comfort in knowing you are not alone, you are surrounded by those who care for you.
We are thankful to be a part of your life and hope we can offer comfort and strength during your time of need.
Religious Condolence Messages
May the Lord keep you safe under His wing as you begin to navigate this new existence. Our prayers are with you and your family.
We are so very sorry for your loss. Remember that _____ is with the Lord now, and no longer in any pain. If it's any consolation, one of my favorite Bible verses to turn to when I need comfort is (insert verse). Please let me know if I can be of help in any way.
You may feel that you are alone right now, but please know that you are not. God is a very real presence with you right now, and I can be there right next to you too, as quick as a flash, if you ever need anything.
I am praying that God will grant you the strength you need to face the sad occasion and that He will give you comfort and healing for the loss of a loved one.
We will miss her deeply in our hearts because she was the gentlest soul to us. Our prayers and love are with you and your family. Please accept our deepest condolences.
In this time of your loss, we lift you up to God in prayers, knowing that nothing can ever comfort your soul than God's unfailing love.
Prayers for you and your family that He will be the comfort that you need in this time of grief.
The Lord walks beside us through the darkness and leads us back to peace. Please know that we're praying for you during this difficult time.
This article was originally published on