Lawmakers Share Details Of Cruel And Inhumane Conditions After Visiting Migrant Camps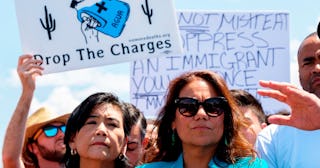 LUKE MONTAVON/AFP/Getty
AOC, Madeleine Dean, and other lawmakers are speaking out after witnessing cruelty at the border camps in person
As more and more reports about inhumane conditions at the border emerge, democratic lawmakers traveled to Clint, Texas, on Monday to see for themselves, in person, the state of the border facilities. After touring two centers, which were obviously prepped for visitors, the politicians took to the internet and airwaves to share their anger, disgust, and horror at what they saw.
Among the visitors was New York Representative Alexandria Ocasio-Cortez, who shared what she saw and heard, which included overcrowded cells, separated families, and cruel border control officers. She also said that a cell filled with women reported that after their faucet broke, they were told they should drink out of their toilet.
Pennsylvania Representative Madeleine Dean was also on the tours, and reported similar conditions. She said ended one tweet simply: "This is a human rights crisis."
California Representative Judy Chu said in a video shot after one of the tours that in addition to the other issues noted, one woman was being denied her medication for epilepsy.
Even though their cell phones were confiscated before the tours, and even though they were ordered not to talk to or touch the residents, Texas Representative Joaquin Castro smuggled in a camera and shot footage. It shows a number of huddled women in blue sleeping bags sharing their story of what it's like to be in the facilities – weeks without showers, not knowing where family members are, problems with getting medication, and not knowing what their future holds.
Michigan representative Rashida Tlaib stressed that even though children are facing extremely harsh and terrible conditions at the border, everyone needs to be helped, and everyone deserves human treatment.
One of the most disturbing aspects of these visits is that these were approved, scheduled visits that the government had time to prepare for. In other words, Border Patrol had time to get the facilities clean, uncrowded, and looking their best before visitors arrived — and they were still in terrible condition. Some of the women told the tour that they had been allowed to shower just four days before, after weeks without washing, because of the tours. And many were afraid of getting punished for sharing their stories with the lawmakers.
After taking the tours, the lawmakers delivered speeches about what they had seen, only to be drowned out by a few dozen protesters who shouted in support of Trump. When Rashida Tlaib, the first Muslim to serve in the Michigan legislature, tried to speak, she was met with a wall of racial slurs and booing.
https://twitter.com/jetpack/status/1145818386351439872
One of the other major points that the politicians made is that while the border facilities might need more funding as more and more migrants flood toward the border to escape terrible conditions in their home countries, the problems at the centers go deeper than money. The officers seemed to be treating the residents and the politicians with contempt — a problem that can lead to verbal, emotional, and sexual abuse quickly.
In addition, just as the lawmakers were touring the facilities, news broke from ProPublica that a secret Facebook group of more than 9,500 border patrol agents had been posting racists, xenophobic, anti-immigrant, violent messages, including derogatory and lewd posts about AOC and other hispanic lawmakers.
There's no two ways around it: even the very best conditions faced at the border by desperate migrants are worse than we thought, and we have no idea how bad the actual conditions are. And while this is all happening, the Trump Administration is only ramping up their fear-mongering and xenophobia when what we need is an immediate solution to this humanitarian crisis.