Simple Ways To Connect With Your Tween During The Pandemic
by Rachel Garlinghouse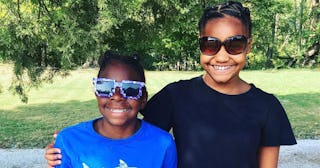 Rachel Garlinghouse/Instagram
The tween years, which are typically defined as children ages nine to twelve, can be challenging. First, there's puberty. The mood swings alone are enough to drive any of us batty. Second, this is a socially awkward time. Kids are trying to find out where (and with whom) they fit in. And then there's the kicker. The coronavirus pandemic has thrown us all for a major loop, especially our tweens.
RELATED: 7 Ways To Live A More Simple Life And Free Yourself From Stress
Yes, kids can be resilient. However, we can't dismiss the fact that our tweens are learning and living during an extremely difficult season. They've lost and suffered a lot, and there's no end in sight. As a mom of four, two of whom are tweens, I've found that now, more than ever, we need to connect with our tweens to help them navigate the pandemic.
I know that figuring out tweens isn't easy. There's a lot of growth and regression that takes place during these three years, and then, once they're over, there's a teenager. Instead of dreading the teen-prep, we can choose to embrace it. After all, tweens actually crave to be heard and parented. It's an interesting time in childhood. We can spend time with our kids, letting them know we support, encourage, and love them, even though it feels like the whole world is on fire. Here's how.
Be playful with your tween.
Tweens are interesting in that they want to be all-teen one minute (electronics, please) and little-kid the next. My tweens want to play on a Switch, and then a few minutes later are playing dress-up, dolls, and toy kitchen with their younger siblings. Parents can take advantage of this and be playful with their tweens. Before you think it has to be complicated, hear me out. Your tween may be perfectly content with a simple, playful engagement like tossing a ball, playing a favorite childhood game (Candy Land, anyone?), or doing a chore together that used to be solely the tween's responsibility.
Relax with your tween.
Teaching our tweens to relax and be in the moment is incredibly important, especially in an otherwise fast-paced, jam-packed life. Being mindful of one's own emotional, physical, and mental needs is a powerful tool they can use not only during the pandemic, but their entire life. Explore options with your tween such as yoga, coloring, or reading. You can also engage in a calming hobby together, like paint-by-numbers, knitting, or learning how to meditate. Don't forget to light a candle and put on some soothing music.
Play spa with your tween.
Since going to get your nails done isn't the best plan right now, why not play spa with your tween? Let them lead the way. Choose some new nail polish, make or buy a facial mask, and find some soothing Epsom salts. Set aside a night a week that you chill together. Perhaps you soak your feet side-by-side in a bathtub with some those calming Epsom salts while you simply chat or ask each other questions. One activity all my kids love is to play the Favorites Game. You probably already guessed that the Favorites Game is simply asking the other person what their favorites are, such as favorite foods, songs, color, and more. When you play spa, make sure it's very clear to your other family members that they are not invited. Make it special for you and your tween, giving them your undivided attention.
Get to know your tween better, and let them get to know you.
I bought each of my tweens a parent-and-me journal. We write back and forth to each other, and they absolutely love this, especially when I write something funny from my childhood. Another option is play games like Would You Rather? or the aforementioned Favorites Game. Charades can also be a wonderful way to connect and enjoy each other's personalities.
Engage in an activity they enjoy, letting your tween take the lead.
My kids love being leaders. Give your tweens the opportunity to teach you something. Maybe it's how to perform a dance or do a certain move in their favorite sport. My tweens are obsessed with building with Lego, so there's times I hang out in their rooms and ask them what I should build. Other times they choose a favorite game—which is usually UNO—and we play together.
Take the lead with your tween, teaching them something fun.
My tweens enjoy being in the kitchen and learning to make something, especially if it's a dessert. I've taught my tweens how to make cornbread, cake, eggs, and a few other things. Yes, there were some burnt pans along the way, but there was also a lot of laughter. If there's something your tween is interested in and you know how to do, teach them. If your kiddo is more mechanically inclined, teach them how to use tools. Perhaps they want to learn a hobby you enjoy. Whatever it is, just enjoy the process together.
Encourage your tween to attend therapy, if needed.
There is a huge demand right now for mental health help, because many—kids and adults—are suffering. The pandemic has brought underlying struggles with anxiety and depression to the forefront. Lead by example. If you aren't willing to go to therapy, why would your tween? A therapist gives your tween a sounding board and a safe person to confide in. Not only that, but your tween can learn how to better communicate with you, have healthy boundaries, navigate relationship struggles, and keep going step-by-step through the pandemic.
Lead by example when it comes to screen time.
This is a huge struggle of mine, since I do most of my work from my phone. However, I could absolutely cut down on the mindless scrolling and "just one more thing" research binge. When we limit our own screen time and follow the rules (such as, no tech at the table), we encourage our tweens to the do the same. When we're on our screens less, have the chance to connect with those—including our tweens—who are right in front of us. Teach your kids that you are available to comfort, brainstorm, or whatever else they might need.
With some intentionality, we can absolutely engage in meaningful moments with our tweens during this incredibly difficult season. Despite their sometimes I'm-fine-and-can-do-everything-myself attitude, a tween still needs their parents, perhaps more now than ever before. Take advantage of more time at home together and connect with your tween. We all want to feel less alone and more supported right now.
This article was originally published on