Why Parents Should Consider The Meningitis Vaccine For Their Kids
by Dr. Christina Johns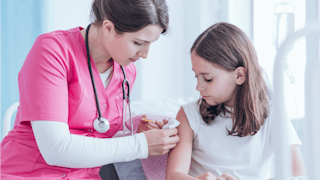 KatarzynaBialasiewicz / Getty
With back to school time just around the corner, parents need to put an important item on their to-do list: getting their kids a meningitis shot.
There are few words in the lexicon of medical terminology that get a parent's attention like "meningitis," — a critical illness that can be fatal, especially among young children and teenagers. Without treatment, bacterial meningitis can cause paralysis, stroke, seizure, sepsis and even death.
Whether viral, bacterial or some other form (see the CDC website for its definitions), meningitis needs to be taken seriously.
There's no substitute for a meningitis immunization, provided through immunizations to guard against H. Influenza type b, Neisseria Meningitidis, and the Pneumococcal conjugate vaccine, which are all causes of bacterial meningitis. Some of these vaccines are given during infancy, and some are given in the pre-teen/teenage years.
Vaccination is recommended when kids are 11 or 12 years old, with a booster given at age 16, and for teens 13–18 years old who haven't been previously vaccinated. Those who have their first dose between the ages of 13–15 should get a booster dose between the ages of 16–18.
Teens who get their first dose after age 16 (for example, previously unvaccinated college freshmen who will be living in dorms or those entering the military) won't need a booster dose.
If you're unable to get you child properly vaccinated, knowing what meningitis is and what to look for in its early days is just as important, since the sooner a case is diagnosed the better the outcome will be, even if that means hospitalization.
People who have meningitis typically complain of some combination of symptoms, from a short flu-like syndrome that can feel like a stomach bug. Other hallmarks include "nuchal rigidity" (a stiff neck) as well as difficulty doing a straight leg raise. Light sensitivity, called photophobia, is a big clue as well. By the time I see most patients with meningitis, they have an inkling that something is going on that's more than just a two to three day sickness.
Of course, when in doubt, see a doctor or medical professional.
Demystifying meningitis is important, to convert fears and misunderstanding into higher awareness and early recognition. That way, your child can go off to school with confidence — and so can you.