Blogger Gives Priceless Advice To New Moms: 'Cancel Everything Else, Not Friends'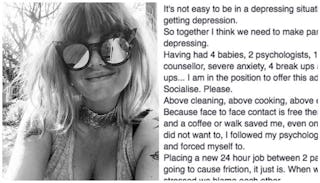 Constance Hall reminds new moms that reaching out for support is essential
There's a steady stream of advice hurled at new moms, but so little of it has to do with self care. That's why it's so refreshing to read something that reminds moms that they're human, too — and should always put their sanity first.
Blogger Constance Hall reminds moms that they need to stay connected to their friends for their own sanity. It's something that's easy to forget.
"Socialise. Please," Hall begs new moms in her now viral post. "Above cleaning, above cooking, above everything. Because face to face contact is free therapy, a laugh and a coffee or walk saved me, even on days that I did not want to, I followed my psychologists advice and forced myself to."
It's easier said than done. Caring for another human being 24/7 is overwhelming — especially during that time when you are also recovering from pregnancy and delivery. Some new moms are home full time for the first time. Some have relocated to be closer to family but it's put them further away from friends. "Without adult interaction and activities outside the home environment, isolation and loneliness may develop and continue into symptoms of clinical depression and/or anxiety," says Allison G. Johnsen, Licensed Clinical Professional Counselor.
It's one of the things no one mentions — how isolating new parenthood can be. There are so many reasons this isolation happens, but the quickest, easiest, and most accessible fix is to reach out to a friend.
"You have two huge responsibilities, keeping your baby safe and happy and taking care of your mental health. Everything else can wait," Hall writes. If anyone questions that explain that socialising is your mental health plan, we all need a mental plan, parenthood should come with one."
It may seem like a no-brainer before you have kids: of course you reach out to a friend. What's so hard about that? It's something that's difficult to explain unless you've been there. You may feel like you've lost touch. You may feel like you're not as good of a friend since you've had children: like all the focus seems to be on parenthood. Any friend worth their weight will understand that you are dealing with a huge transition — whether they're parents or not.
She ends with this advice: "Stop canceling on your friends, cancel everything else, not friends. You will feel healed."
This article was originally published on