Stranger Offers New Mom The Perfect Gift -- To Be Able To Eat A Meal In Peace
by Cassandra Stone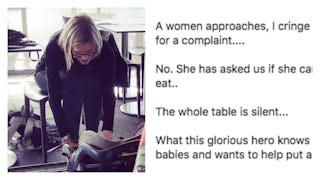 Image via Facebook/Constance Hall
Eating out with kids and a newborn can be a nightmare when you don't have help
Hot meals and hot showers are like the holy grail for new moms — you don't actually see them, but you know they exist. Or at least, you think you remember what they feel like. Which is why what this stranger did for new mom Constance Hall is amazing, and we should all take note of it.
Hall, a popular Australian blogger, gave birth to her fifth child, son Raja, earlier this summer. While she's no stranger to the new mom thing, let it be known that no matter how many times you've experienced The Newborn Phase, it never gets easier.
When she was out at a restaurant with her husband, Denim, and their gaggle of kids in tow, a fellow mom and "glorious hero" came forward to offer a little assistance.
"Rocking up to a restaurant with a huge pile of feral kids, I'm trying our hardest to keep them quiet while they drop cutlery and make paper planes out of the menu," Hall writes. She says her husband was rocking the baby, who couldn't be consoled.
"A women approaches, I cringe as I embrace myself for a complaint," Hall says. And we all know those people — the ones who shame moms who are struggling while out in public. It happens to all of us. All the time. But this woman was different.
"No. She has asked us if she can take Raja while we eat."
Because if you've been there yourself, and you see a new mom trying her best to have a meal out with her family, you know how fucking impossible that is. Hall says the whole table fell silent.
"What this glorious hero knows is that she loves babies and wants to help put a fellow mum. What she doesn't know is that this is literally the first meal since our baby has been born that Denim and I have eaten at the same time. And it was amazing."
Hero, indeed. After I became a mom and experienced newborn life, I made a vow to myself that I would never show up to a new mom's house empty-handed and without a hot meal. Because I can't tell you how intimately familiar my husband and I became with our local pizza delivery guys for the first two months of our daughter's life.
We all could learn a lesson from this woman in the restaurant — if the parents are willing to let you (and you bet your ass they'll probably let you), lend a helping hand and hold that baby for a bit. Any break is a good break.
As Hall so perfectly puts it: "Rock on queen, and you are the modern day hero I aspire to be like."