10 Construction Coloring Pages For Your Future Foreperson (No Hardhat Required!)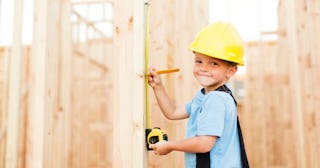 RichVintage/Getty Images
If you remember the children's TV series Bob the Builder, you know that learning about construction work can be fun and fascinating. In case you need a little refresher, Bob the Builder and his friends (cover your ears, kids!) got sh*t done. He and pals like Muck the dump truck and Dizzy the cement mixer liked to dig, haul, and build things together. Cooperation went hand-in-hand with construction with this gang, and we dig it (pardon the pun). After all, where would we be without the hard work of construction workers? They literally construct the buildings and homes that help make our cities and towns functional and livable. So, we decided to pay tribute to this vital field with a collection of construction coloring pages that would surely make Bob the Builder and his whole crew happy.
Construction work is also something a lot of kids enjoy theming their play around, whether it's in the sandbox or their own backyard. Mixing "cement" (sand and water) to make tiny huts or loading toy dumpster trucks with rocks, creating stuff — and getting dirty, of course — is a favorite pastime for young ones. If your little one sounds like a mini Bob, not only should you definitely check out the late '90s cartoon, but you should also check out these cool free construction coloring pages. What better way for your children to live out their construction creations than construction coloring pages that will leave them busy working for hours.
Afterward, they might want to check out our other coloring pages featuring heavy machinery, like our truck coloring pages, helicopter coloring pages, tractor coloring pages, and train coloring pages.
Free Printable Construction Coloring Pages
Construction Page No. 1
Construction work is as old as civilization. The first buildings constructed were huts and shelters by hand or with simple tools. It wasn't until the Bronze Age, as cities began to grow, that a class of professional craftsmen emerged to shape and build cities in a more sophisticated manner.
Construction Page No. 2
Steam-powered machinery first appeared in the 19th century and was later replaced by diesel- and electric-powered vehicles such as cranes, excavators, and bulldozers. And here's another cool construction tidbit: Did you know the Great Pyramid of Giza was the tallest structure in the world for over 3,000 years? It was made with more than 2,300,000 blocks of limestone!
Construction Page No. 3
Industrial cranes were indeed named after the bird of the same name. Just like the machinery, crane birds are tall and slender, flexible, and quick with their beaks, so lifting cranes were soon referred to like the same since early crane manufacturers thought they looked and acted similarly. But cranes aren't the only bird-like tool in this field — the use of aerial machines (AKA drones) in the building industry has increased by over 200 percent.
Construction Page No. 4
Safety comes first in the construction field! A construction worker needs to wear safety and protective gear such as a hard hat, goggles, and steel-toed boots.
Construction Page No. 5
A concrete mixer and an excavator often go together. A concrete mixer uses a revolving drum to mix sand or gravel and water to create cement, while an excavator is responsible for digging into the ground quickly and lift heavy objects.
Construction Page No. 6
Standing at 820-feet tall, the SGC-250 — more affectionately referred to as "Big Carl" — is the world's largest crane. The SGC stands for "Sarens Giant Crane," which is the type of crane Big Carl is. Other types of cranes include carry-deck cranes, crawler cranes, floating cranes, rough terrain cranes, truck-mounted cranes, jib cranes, and more.
Construction Page No. 7
According to U.S. Census data, the number of workers aged 24 years or younger entering the construction industry decreased by 30 percent between 2005 and 2016. The average age of a construction worker in the USA is 42 years old. Unfortunately, while the industry is expanding, there is a shortage of young construction workers. Why? Likely due to some misconceptions, like the industry's instability or how you can't earn a lot of money compared to college-educated careers (both fallacies!).
Construction Page No. 8
Nationwide, there are 9.9 million men employed as construction workers compared to over 1.1 million women working in construction. Speaking of women in this field, did you know Illinois celebrates a week in March called Women in Construction Week? How cool is that?
Construction Page No. 9
Concrete has been the most popular building material throughout history and has been used for some of the most famous structures in the world. A prime example? The Roman Pantheon. Back then, Romans used secret ingredients like lime, seawater, and volcanic ash. The first concrete-like structures, though, were built by Nabataea traders or Bedouins in southern Syria and northern Jordan circa 6500 BC.
Construction Page No. 10
During WWII, thousands of women worked construction jobs, increasing the female labor force by 50 percent. When the war ended, up to 85 percent of women wanted to keep their jobs, which helped pave the way for future generations of women in the labor force.
Click here to print all of the construction coloring pages at once!
This article was originally published on