Forget Book Clubs, The Cookbook Club Is Here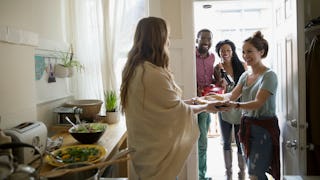 Hero Images: Getty
I love the idea of book clubs and always have since I tried to start one with my neighbors in 2006. Alas, every time I've tried to join one or start one myself they are an epic fail. And I know why: the food was the culprit.
The problem was, after talking about the book we were supposed to be reading for a few minutes, then confessing to one another we didn't get through the assigned chapters because we had the school play, a dozen muffins to make for Teacher Appreciation Week, and a clogged toilet situation we were dealing with, we'd end up sitting around eating, talking about food and recipes and cooking, with a dash of gossip thrown in for good measure.
It was clear my mom friends and I needed a stress reliever, and reading a novel (even if it was a fun, light read) under a deadline wasn't working for us. The book was thrown to the back burner and, instead, we'd stuff our face with crab dip and quiche and cinnamon brownies with fudge frosting.
As it turns out, we were doing it all wrong by expecting ourselves to get through an entire book. Instead, we should have followed our instincts and stuck to just the food.
We should have been following the growing trend of the Cookbook Club, because it's brilliant and obviously everyone needs this form of getting together in their life.
The premise behind the Cookbook Club is you get a few friends together — it doesn't matter if they've never cooked a casserole or they are a 5-star chef at the best restaurant in town — if they love to eat and share, they're in. This is all about fun, tantalizing your taste buds, and trying new recipes you'd never have time to make yourself.
https://www.instagram.com/p/Bs2NupojTx_/
Then you pick a cookbook and you each make a recipe from the book and get together to eat until you have to undo the top button. (Here's a great guide to get your own Cookbook Club up and running from Table For Two.)
Sounds glorious, doesn't it? You put effort into a single dish and get to have a huge feast of a meal in return. Your taste buds get to explore new flavors, and you may even dare try and make something you wouldn't normally make because it was so damn good and you think, Well, if Karen can make that, then so can I.
And if you are afraid your souffle will flop, or your cheesecake will deflate, don't let that stop you from joining in on the flavorful fun. Tara Austin Weaver who has been in a Cookbook Club for over four years talks about the clubs' failures for Serious Eats admitting they "are funny enough to almost redeem the experience."
These days with our schedules being so tight, putting on a dinner party can be time consuming, costly, and exhausting, and to be honest, many of us just don't want to do it.
But, having a group of friends all come together to get their chef on is the perfect solution. Weaver also adds that the club uses paper plates at their gatherings which sounds like my kind of party, but if you want to bust out the good china and sexy silver, this might be the time to do it since you are only in charge of one dish and probably have some energy left over to clean up.
I have a friend who has been involved in a Cookbook Club for a few months now, and she says one of the reasons she loves it is because, "No one has to stay and help clean up. You take your dish and you leave, that's it."
The person who is hosting makes the main dish for the dinner and sends out emails to the rest of the group as the menu develops. Then, for the next gathering, someone else gets to take charge.
I don't know about you, but assigning people recipes from The Pioneer Woman Cookbook that I've always wanted to eat but I've been too lazy to try sounds like a party to me.
So, if you are feel like you should be starting some sort of heady book club but aren't sure if you can get anyone on board, suggest the Cookbook Club — it's the perfect way to eat your heart out without having to do all the work and enjoy some incredible company and humor around what went right and what went wrong in other peoples' kitchens.
This article was originally published on