Kind Cop Finds House For Homeless Woman Who's Never Missed A Day Of Work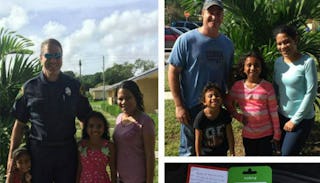 A Florida police officer found a house for a homeless family he found living in a car in a Walmart parking lot.
It's always encouraging to start the year off with news of human beings being good and kind to each other, and one Florida police officer came through over the holidays when he went above and beyond the call of duty to find a house for a homeless woman and her two daughters.
According to a Facebook post from the Boynton Beach, Florida, Police Department, Grisela Andino and her two daughters had been subletting an apartment in Florida, but were evicted when the person they were subletting from just stopped paying rent to the property owner. Despite the fact that Andino had a full-time job and had never missed a day of work, she found herself with no place else to go and without the money to pay the large starting costs–like the first and last month's rent, plus a security deposit–to get a new apartment. Andino and her daughters were forced to live in the back of Andino's car, which she started parking in a Walmart parking lot.
Even though they had lost their home and were living out of the car, Andino somehow managed to continue to work a full-time job and get her kids to school on time every morning without ever missing a day of work. That's a pretty impressive feat for any parent, even in circumstances not nearly as dire Andino's, and both her girls continued to get very good grades at school.
Andino and her girls were living in the parking lot of the Walmart when Officer Craig Hanning discovered them.
Moved by their story, and the fact that Andino had somehow managed to get her kids to school and never miss a day of work, even while living out of her car, Hanning decided to see what he could do to help. And it turns out he could do a lot! Hanning reached out to a real estate agency, whose employees managed to find a suitable apartment for Andino and pooled their own resources to cover the first and last months of rent for Andino, plus her security deposit. All she had to do was move in. They even managed to get together furniture and supplies that the family needed.
Finding Andino and her daughters a house was an amazing feat in itself, but Hanning was not finished. He also reached out to other local businesses to find people who were willing to help. One business gave Andino new tires for her car so she could get to work safely, and a local charity found money so Andino could buy food and even some Christmas presents for her daughters.
Hanning was amazingly kind and generous to put out the effort necessary to rescue Andino and her daughters, and their community really came together to support a family that had fallen on hard times. Everyone involved, from Hanning to Andino and the citizens of Boynton Beach, deserves a round of applause for being good and decent people and looking out for each other.