Cop Answers Adorable Call From 10-Year-Old For Homework Help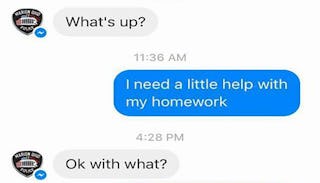 Lena, 10, asked police for help with math problems.
Police officers protect and serve their communities, which is exactly why one 10-year-old girl reached out to cops when she needed help. What was her crisis? Fifth-grade math homework. We've all been there.
Elementary school student Lena Draper decided to reach out to police in Marion, Ohio via Facebook messenger when she got hung up on a few math problems. And while the cops at Marion PD don't typically solve cases centered on math they answered the call of duty.
Thankfully her mom posted the whole exchange online. In Lena's defense, the problem isn't that simple.
Lieutenant B.J. Gruber, 42, isn't scared of no math even though it's been several years since he was in the fifth grade. He told CNN that Lena's request "really didn't strike me as that incredibly odd."
Since the kind police officer she was chatting with was so helpful, Lena went ahead on asked for help with another math equation. But when her mom Molly Draper shared screenshots of the exchange online a friend noticed that the cop's response wasn't technically accurate. "Buuuut after doing the parentheses, she should actually multiply the (29+15) times 2, then add the (90+27)," explained Amy Pelfrey. "Glad they were willing to help! But multiplication before addition!"
How adorable is that? Also, hooray for relieving homework stress via Facebook. I still remember my parents cursing at my math books. Despite his best effort, the police officer said he's "more of a history, civics and social studies kind of guy." Apparently, math wasn't his best subject in school either.
Lena's mom was thrilled the cop helped her daughter out. "I thought it was wonderful they took the time to work through it with her, right or wrong!" she said. "It shows a commitment to building relationships and trust with the community."
This article was originally published on