This Convertible Bean Bag Bed Makes Sleepovers So Easy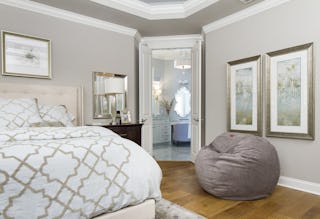 This super smart Shark Tank product is perfect for kids who are obsessed with sleepovers. If there isn't any extra room in your kid's bed and you can't find an extra sleeping bag, this bean bag will transform into a cozy mattress within seconds. Problem solved.
The cover on the bean bag is soft and washable, which makes keeping it clean and cozy for guests a breeze. All you have to do is remove the cover and flip out the inner cushion to transform it into a bed. Just like magic! You can then fold and slide the mattress back into the cover to turn it into a bean bag again.
There are over 400 rave reviews on Amazon. The consensus is that this product is perfect for kids, though it's better to avoid thinking of it as a go-to for adults who need to crash. Reviewers also say when you first convert the bean bag into a bed, you should give it some time for the foam to expand and fluff up. Another insider tip? You can call up the CordaRoy brand to request more foam (if needed!) and they'll ship it to you… for free.
More: These 50+ Baby And Parenting Products Are Freaking Genius
All products featured in our shopping guides are spotted by Scary Mommy editors. We may earn a commission on purchases made through links from our site.
This article was originally published on