Corded Blinds Will No Longer Be Sold Due To Strangulation Risk For Children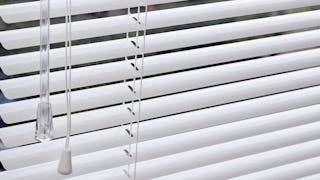 Image via Getty/anmbph
As of today, all window coverings must comply with new safety standards
New safety standards will limit the manufacturing of corded blinds — as of today, most products used to cover windows must either be completely cordless or have short, inaccessible cords.
This is in direct response to strangulation deaths and cord-related injuries in children.
A study published earlier this year by the American Academy of Pediatrics highlights the genuine danger of cord injuries and deaths. Between 1990 and 2015, the study estimates there were 16,827 window blind-related injuries among children younger than six years of age who were treated in emergency departments in the U.S.
According to the Consumer Product Safety Commission, there have been 50 fatalities reported between 2012 and 2017 directly related to window cord strangulation among infants and young children.
I remember a fellow mom mentioning the safety risk corded blinds present back when I was pregnant a few years ago. Until that moment, I hadn't ever had a reason to think about blinds with cords. Now that my daughter is three years old and able to get in and out of her bed herself, I have those suckers wrapped and tucked tighter than a pair of Spanx in a way that she can't ever reach them.
Accidents happen, even when parents take every precaution we can. Implementing safety standards like this keeps everyone accountable and, most importantly, helps to keep our kids safe.
The ban on corded blinds will affect more than 80 percent of all window covering products sold in the U.S. and Canada. "The new safety standard is a direct result of ongoing industry innovation, technological advances and new product development," Ralph Vasami, executive director of the Window Covering Manufacturers Association, said in a statement.
All products manufactured after today are required to comply with the new safety standard.
This article was originally published on