Multiple Universities Suspend In-Person Classes Amid Coronavirus Concerns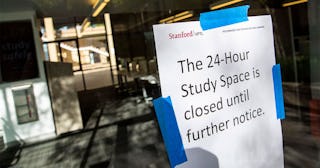 Philip Pacheco/Getty
In response to the coronavirus outbreak, several east coast universities are canceling classes
The latest sector to feel the increasing effects of the quickening spread of the coronavirus? Colleges and universities. On Monday, Princeton University officials announced that they are hoping to thwart any potential campus outbreak by way of "social distancing." Come March 23, when students are supposed to return from spring break, they won't be reporting to classrooms in person. Rather, all classes will be virtual… for now.
"Though we recognize that a personal, 'high touch' educational environment is one of Princeton's great strengths, we also recognize that these are extraordinary times that require exceptional measures to deal with a health risk that affects us all," university President Christopher Eisgruber wrote to students and staff in a letter.
The Ivy League university is accordingly encouraging students not to return to campus until at least April 5 — at which time Eisgruber says the university will reassess and update students and staff on what their plans will be moving forward.
"We understand that these and other measures will cause significant disruption and inconvenience to the campus community," elaborated Eisgruber. "But we strongly believe that actions taken now will have the greatest chance of decreasing risk and that the potential consequences of not acting could far outweigh these short-term disruptions."
Princeton's announcement came less than 24 hours after New Jersey confirmed its sixth documented case of COVID-19 — and emphasized that they expect the number of confirmed cases to grow. However, Princeton isn't the only university taking such precautions.
Over the weekend and into Monday, several colleges and universities announced they were implementing similar policies to try to prevent the spread of coronavirus. Some of the universities are awaiting the pending results of coronavirus testing on students and faculty.
Columbia University has canceled classes Monday and Tuesday and is transitioning to remote classes for the remainder of the week. Hofstra University and Yeshiva University, both in New York City, have canceled classes of the week. Boston's Berklee College of Music announced on Monday that students who traveled to certain areas over spring break would not be able to return to class until they completed a 14-day self-quarantine.
These campus closures kicked off last week with west coast colleges and universities. Stanford University has put a hold on in-person classes until further notice. And like Princeton, the University of Washington made headlines for shifting entirely to online courses for all 50,000 of its students.