Family Of Coronavirus Patient Defies Quarantine To Attend Father-Daughter Dance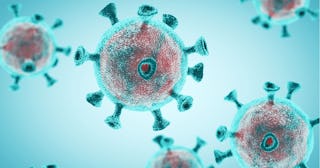 dowell/Getty
Members of the patient's family also left their home to go grocery shopping and get their nails done
The eldest daughter of a St. Louis, Missouri family returned from studying abroad in Italy recently and developed COVID-19 symptoms last week. After she tested positive for the virus, the entire family was instructed by healthcare professionals to self-quarantine as a precaution — and they defied those orders.
CBS affiliate KMOV reports that while the test results were still pending, the father took his younger daughter to a school dance. St. Louis County Executive Sam Page says the daughter with the coronavirus "acted responsibly" but that her father "did not act consistently with the health department's instructions" because he chose to take his other daughter to a school function with several people in attendance.
The county officials learned about the family's attendance at the dance on Sunday, and the father was told "to stay home or they will issue a formal quarantine that will require him and the rest of his family to stay home by the force of law," Page says.
Once the daughter received confirmation that her test was positive, her dad and sister were informed while they were at the dance. They left immediately, per KMOV, and now classes at the school have been canceled. In a letter sent home to parents, school officials from Villa Duchesne and Oak Hill School (VDOH) informed the school community of what occurred. Anyone who attended the dance has been urged to seek appropriate medical care and to notify the school if they develop symptoms.
On Twitter, Emily Claire Goldman shared further information she received about the St. Louis family from a reporter.
Apparently, during the family's quarantine period no one was abiding by the instructions to actually quarantine themselves.
The family's lawyer is alleging that they were never told to self-quarantine.
So now everyone who came into contact with these people at the grocery store, gym, and nail salon should be on high alert for developing symptoms. This is how pandemics become, well, pandemics. By people not abiding by orders to follow for the greater good of overall public health.
https://twitter.com/jetpack/status/1237202511334903810
The hotel where the dance was held, the Ritz-Carlton in Clayton, St. Louis, issued a statement saying it was "taking additional steps to perform enhanced cleaning of hotel areas where the event was hosted. The well-being of our guests and associates is of paramount importance."
Many schools, universities, and places of business around the country have asked people to stay home — especially if symptomatic — as confirmed cases of COVID-19 spread in the U.S. According to the CDC, there are now more than 500 confirmed cases have risen to over 500, with confirmed deaths in the U.S. at 24.
Johns Hopkins University estimates that 113,000 cases of coronavirus have been confirmed worldwide and that more than 62,000 people have recovered. Otherwise healthy people who might contract the virus will likely develop mild symptoms — the risk remains significant when it comes to older adults and those with pre-existing health conditions (respiratory) and those who are immune-compromised.
If given a quarantine order, please, please abide by it until given the all-clear. And in the meantime, wash your hands, cough into your elbow, wash your hands some more, and stay home if you're feeling ill.
This article was originally published on