Woman With Coronavirus Symptoms Shares How Doctors Refused To Treat Her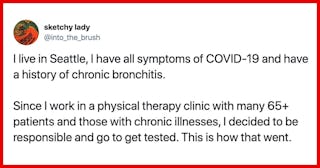 into_the_brush/Twitter
Despite outbreak, woman documents failed attempts to get tested for coronavirus in Seattle
As COVID-19, the disease caused by the new coronavirus, has taken 11 lives — 10 in Washington State — and as the World Health Organization has stated that the virus has already killed about 3.4 percent of confirmed cases around the world — which is a higher death rate than the flu — one woman in Seattle, Washington with COVID-19 symptoms and a history of chronic bronchitis detailed her many failed attempts to get tested for the virus, and her now-viral Twitter thread is a wake up call that getting tested for the virus is close to impossible.
"I live in Seattle, I have all symptoms of COVID-19 and have a history of chronic bronchitis," Twitter user Into The Brush shared online. "Since I work in a physical therapy clinic with many 65+ patients and those with chronic illnesses, I decided to be responsible and go to get tested. This is how that went."
First, she called the coronavirus hotline, but after 40 minutes on hold, gave up. Next, the CDC's website directed her to see a primary care doctor, so she called two doctors and one told her that they didn't know where to get tested and advised her against getting tested, while the other primary care doctor told her to go to the ER or an urgent care. She went to an urgent care, who told her to call the hospital, so she called the hospital — which did not have any tests for the virus — but they were able to patch her through to the coronavirus hotline.
The coronavirus hotline operator said that she does not "qualify for testing" and that they only administer the test to "those who have been out of the country in the last 14 days, and those who have had contact with one of the few people who have been tested and come up positive."
Despite having symptoms, despite living in Seattle, despite having a history of bronchitis, she was told that the only way she'd get treated and tested "is if my symptoms get so bad I develop pneumonia or bronchitis…Then I'll be in the ER and quarantined for several days while waiting for a test and for the results to come back."
"This is all incredibly frustrating because I am trying to do everything right in a system that punishes moments of 'weakness like taking days off," the Twitter user wrote. "It's also scary to know that I won't be able to get help until I need life support."
After the thread went viral, she punctuated her message with a call to action, warning people from calling the hotline "unless you are experiencing all symptoms or have been exposed to a case. Leave the lines open to people who need it most."
With the president actively spreading misinformation about the virus, we're not shocked that health care providers don't know how to advise patients but we're not wrong in being a little terrified. A novel virus is taking lives in the U.S. and right now, the only course of action for prevention is to wash your hands.
This article was originally published on