3.3 Million Americans Filed For Unemployment Last Week
by Christina Marfice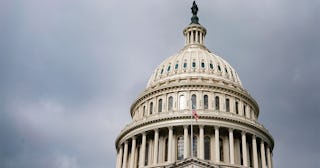 Unemployment claims from last week alone are nearly five times higher than at the peak of the Great Recession
The coronavirus pandemic has caused cities and states to order their residents to stay home in order to slow the spread of the deadly virus, and that's caused countless businesses to have to close their doors, either temporarily or for good. The sudden shuttering of so much of the economy has cause many people to be laid off or furloughed, and we now have the numbers that show just how dire the situation is: 3.28 million Americans filed for unemployment benefits last week, shattering any record that's ever existed.
"This marks the highest level of seasonally adjusted initial claims in the history of the seasonally adjusted series," The Labor Department said in a release that accompanied the numbers. "The previous high was 695,000 in October of 1982."
That's also nearly five times higher than the peak of unemployment numbers during the Great Recession. The Labor Department's report is the first real indicator we've received about how many Americans have been forced out of work due to the coronavirus pandemic, and Federal Reserve Chairman Jerome Powell said it could indicate that we're already in another recession—though this one could definitely be a lot shorter than the Great Recession, he added.
"This is a unique situation," Powell said during an appearance on the Today show. "People are being asked to close their business, to stay home from work, and to not engage in certain economic activity, and so they are pulling back. At a certain point, we will get the virus under control and confidence will return."
Unfortunately, though, economic forecasters say this likely isn't the peak for unemployment during the pandemic, and we're likely to see even greater surges before there's any kind of rebound. The hotel industry alone has already cut around 1 million jobs. The travel and transportation industries have ground to a halt as people shelter at home to avoid spreading the virus. Restaurants have taken huge cuts to their revenue and business as governments have mandated they close down for all but takeout and delivery, and their workers have seen major reductions in their hours as a result. And as all but "essential" business are asked to close, workers in the retail industry may be next to see reductions in their hours, layoffs, and furloughs.
Luckily, on Wednesday night, the Senate unanimously passed a $2 trillion economic rescue plan that greatly expands unemployment benefits. Hopefully that provides the relief workers need to keep their bills paid until the pandemic is under control.
This article was originally published on