CDC Officials Warn Americans To Prepare For 'Bad' Coronavirus Outbreak
by Madison Vanderberg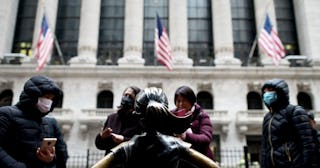 CDC warns Americans to brace for imminent coronavirus outbreak stateside
After making news every day for the last few months, U.S. health officials have finally alerted Americans that we should prepare for a coronavirus outbreak stateside. The coronavirus originated in Wuhan, China and although the outbreak in China is slowing down, the mysterious illness has spread to other parts of Asia, Europe, and the Middle East, and the CDC says it will spread to the U.S.
"It's not so much of a question of if this will happen in this country anymore but a question of when this will happen," the director of the National Center for Immunization and Respiratory Diseases told The New York Times.
The CDC does not know whether the spread will be mild or severe, but that "we are asking the American public to prepare for the expectation that this might be bad."
Despite President Trump's message that the coronavirus "situation will start working out," he requested $2.5 billion to help stop the spread of the virus. Some of that spending will go towards the 300 million masks needed for health care workers and additional ventilators for hospitals.
There are currently only 14 cases of coronavirus within the United States (53 total if you include citizens from China and the Diamond Princess cruise ship who contracted the disease and then landed in the U.S.).
Major coronavirus symptoms include fever, cough, and shortness of breath and since this is a new virus, there is no vaccine to protect from it or medications approved to treat it. The biggest issue with coronavirus is that it can lead to pneumonia and the only course for recovery is a strong immune system. However, The Guardian reports that of the 77,658 cases of coronavirus reported in China, there were only 2,663 deaths and more than 12,000 people have already recovered. The mortality rate for coronavirus is currently at 2% in the outbreak epicenter — Hubei province. For comparison, the CDC (via CNBC) reports that the mortality rate for the flu in the U.S. is 0.095%.
Right now, the CDC warns that the best thing you can do to protect yourself from a coronavirus outbreak is to protect yourself from the regular flu. Get the flu vaccine and take flu antivirals if prescribed. Additionally, the CDC recommends that everyone take normal preventive actions to help stop the spread of germs (covering coughs and cleaning hands often with soap and water or alcohol-based hand sanitizer). Currently, the CDC is updating their website as new information comes in.
This article was originally published on