A Roundup Of Corporations Pulling The Plug On Trump, And Why That Matters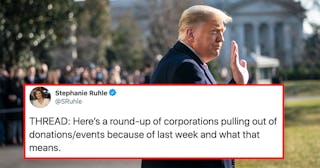 SRuhle/Twitter and Drew Angerer/Getty
On January 6, 2021, we all watched in stunned silence as a group of domestic terrorists, incited by speeches given earlier in the day by President Trump and his allies, stormed the Capitol building disrupting the legislative process.
This week, we're watching those domestic terrorists face the consequences of their actions—none more so than the president himself, who is seeing his support from corporate America disappear.
Corporations, many of which are household names, are pulling the plug on Trump and his allies. The move is far too late — the damage to hallowed legislative ground and the foundation of democracy has been done — but it signifies a bigger shift in the court of public opinion. "More than anyone, corporations track public sentiment," writes NBC News correspondent Stephanie Ruhle in a Twitter thread identifying the corporations that distanced themselves from Trump. "Taking clear action against Republicans in the Senate who would not certify the election and very clear distancing themselves from President Trump shows they believe this is where America's head is at TODAY (the shift since Election Day)."
Twitter kicked off the corporate blowback to Trump's incendiary rhetoric first by suspending his Twitter account and then permanently banning him from the platform "due to the risk of further incitement of violence."
After the suspension and before the ban, Facebook and Instagram had also blocked Trump from their platforms, at least through the end of his presidential term. Other social media companies followed suit. Snapchat, YouTube, Twitch, TikTok and Reddit have all taken steps to disable the president's channels and accounts, or crack down on content, thereby leaving him without a platform and a space to continue stoking anger among his supporters.
Online commerce and payment services are also pulling the plug on all things Trump. Shopify removed stores run by Trump's business and campaign from its platform and PayPal shut down an account that was raising funds for Trump supporters who traveled to D.C. More telling of the shift in public sentiment is the report that financial technology firm, Stripe, will discontinue processing payments for Trump's campaign website, thereby cutting off "Mr. Trump's fundraising arm from what has been a steady stream of small-dollar donations that are often solicited through emails and text messages," according to CBS News.
But social media and online companies are not the only ones distancing themselves from Trump. According to a statement by PGA of America President Jim Richerson, PGA of America, the organizer of the main professional golf tours in North America, voted to "terminate the agreement to play the 2022 PGA Championship at Trump Bedminster."
And Trump isn't facing the backlash alone — nor should he. Hotel icon Marriott International Inc., AirBnB, Commerce Bank, and health insurance network Blue Cross all pledged to suspend donations to Republicans who voted against certifying the electoral college results, even in the wake of the Capitol attack, as did Mastercard, according to Popular Information, a political newsletter. Similarly, Dow Chemical vowed to suspend "all corporate and employee political action committee (PAC) contributions to any member of Congress who voted to object to the certification of the presidential election" for a period of one election cycle.
According to the old adage, "money talks." The money is certainly talking, and it's saying it wants a peaceful transition of power. Financial powerhouses Goldman Sachs, JPMorgan Chase, Morgan Stanley, and Citigroup have all pledged to suspend all political contributions to both parties for a period of time. In a memo to employees, Candi Wolff, Citi's head of global government affairs, wrote that the company wanted to assure employees that "we will not support candidates who do not respect the rule of law," said in a memo to employees.
Charles Schwab and Microsoft both decided to hold off on all political contributions as well, until they can assess the events of the last week and determine the "best path forward."
Boston Scientific, a medical device manufacturer, also temporarily suspended all political donations in order to review its "approach to future contributions," as did Ford Motor Co.
Trump's allies, too, are facing the consequences of their choice. Most notably, Parler, the social media network favored by the far-right has been removed from Apple's app store, Google's Play Store, and eventually removed completely by Amazon's web servers. As of this writing, Parler is offline, which is crucial because, at least for the moment, the rate of disinformation dissemination is slowed.
Likewise, some of Trump's biggest supporters are seeing their corporate support dissipate. Simon & Schuster has canceled the upcoming publication of a book by Senator Josh Hawley, one of the most outspoken members of Congress to vote to overturn the election results, even after the attack on the Capital. Hallmark, via HALLPAC, its political action committee, is also retracting its support for Senator Hawley, as well as Senator Roger Marshall, and is requesting back the donations it had previously made to their campaigns, stating that the Senators who objected to the certification of the election results do not reflect "the company's values" according to Popular Information.
No doubt the companies mentioned above won't be the last we've seen. Not only is the Lincoln Project launching an expensive campaign to push companies to stop donating to Republicans who voted against certifying the election results, but a number of companies that are household names are reviewing their policies including, CVS Health, Exxon Mobil, Wells Fargo & Co, T-Mobile/Sprint, FedEx, Target, Walmart, and Delta. Other companies have stated that they will "consider recent events before future donations" including Bank of America, Ford, and AT&T, according to Ruhle's Twitter thread.
"Corporate America is starting to understand that silence is complicity," said Lee Newman, CEO of MullenLowe U.S., part of public relations giant Interpublic Group of Companies, in a report with NBC News. "Some of them are driven by the desire to show people their values and where they stand… others are somewhat operating out of fear to ensure that they're saying the right thing and that they're on the right side of history here." Whatever the reason, Corporate America's shift away from Trump and his allies is significant — it indicates a clear repudiation of the president and the dangerous rhetoric we heard coming from the White House.
The reckoning by Corporate America is far too late — the attack at the Capitol proves that — but at least it's here.
This article was originally published on