Cosmo To Be Removed From Checkout Lines Thanks To Ridiculous 'Anti-Porn' Organization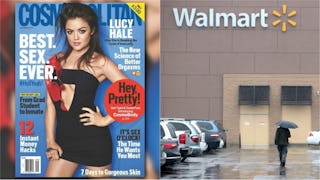 Image via Cosmopolitan / Scott Olson/Getty Images
This isn't how #MeToo is supposed to work
The #MeToo movement has done a lot of amazing things for women. It's given a voice to women who were previously silenced and oppressed. It's provided solidarity and strength in numbers that made countless women feel safe enough to tell their stories. It's made people realize the sheer numbers of women who have been assaulted, harassed and abused.
Until now, it's been a tool for good. But an anti-porn organization is using it to do the opposite of what it was intended to do. The #MeToo movement has been cited by the organization as the reason Walmart will remove Cosmopolitan magazine from its checkout lines.
In a statement, the National Center on Sexual Exploitation cited the #MeToo movement as inspiration for this move, saying, "This is what real change looks like in our #MeToo culture, and NCOSE is proud to work with a major corporation like Walmart to combat sexually exploitative influences in our society. Women, men, and children are bombarded daily with sexually objectifying and explicit materials, not only online, but in the checkout line at the store."
Except Cosmo isn't exploiting women. Its frank discussion about women's sexuality is empowering and necessary, not exploitative. And the internet has been pretty quick to point that out.
Walmart itself did not mention the #MeToo movement in its announcement about removing the magazine from checkout lines, and did stress that Cosmo will still be available in Walmart stores, just not at the checkout.
"As with all products in our store, we continue to evaluate our assortment and make changes. Walmart will continue to offer Cosmopolitan to customers that wish to purchase the magazine, but it will no longer be located in the checkout aisles," a statement from Walmart execs reads, adding the move "was primarily a business decision, [but] the concerns raised were heard."
At the end of the day, though, this is a step backward for women. When women are educated about their own sexuality, they have more power, not less. Cosmo is just one tool for that education that will now be more difficult for women to get. That's not a step forward in the #MeToo era; it's a step back.