Kids' Sports And Extracurricular Activities Are Too Freaking Expensive
by Annie Reneau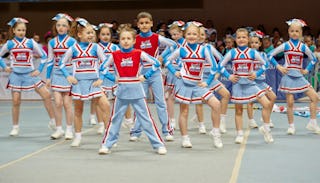 Pavel L Photo and Video / Shutterstock
My husband and I are pretty solid middle-class Americans. Between both of our earnings, we are able to pay all of our bills with a modest amount left over each month for fun or savings or unforeseen expenses.
Before we had kids, I had no idea that one of those unforeseen expenses would be enrichment activities for our children. Holy cow. Over the years, our kids have taken swim lessons, dance classes, gymnastics classes, karate, violin or piano lessons, and various classes through our local parks districts. We've been fortunate to be able to provide those kinds of extracurricular activities for our kids. But dang, they don't come cheap.
Costs vary by area, of course, but some things are universally expensive. One of our daughters has taken violin lessons for years. We've spent several thousand dollars a year to help her hone this specific musical talent. Hopefully, that investment will pay off in the form of college scholarships, but we have no guarantee of that. I'm thrilled that she'll have this skill and be able to put beautiful music out into the world, but dang, it doesn't come cheap.
We have three kids. And when we add up all of the classes they've taken, it's a lot. We want them to be able to explore their interests and build skills in various areas, but we aren't wealthy. We have to say no to a lot of requests. I don't know how families who are further down the economic spectrum from us do it.
Our kids haven't yet expressed an interest in sports other than karate, so we don't pay for those. But from my understanding, team sports costs can add up too. Recreational leagues may be affordable, but if your kid wants to get serious about a sport and join an elite league, it can get ridiculous really quickly.
In fact, it can cost thousands of dollars a year for a kid to participate in a competitive sports club. When you get into the elite circles of certain sports, such as figure skating, gymnastics, or dance, you can easily jump into the $10,000-plus per year range.
If all three of our kids got into one of those competitive sports, it would take almost half of our annual salary to make it happen (which is why it's definitely not going to happen).
I asked a group of moms about the costs of their kids' enrichment activities outside of school and found that it's not unusual for families to be spending $200 or $300 a month on extracurriculars, per kid. For some families, that's no big deal. But there are a lot of families who simply can't afford it.
The pressure is real, though, and it's not just the "Keeping Up With the Joneses" phenomenon. All of us want to feel like we're giving our kids opportunities to explore their interests and build their talents. All of us want our children to build the character qualities and life skills that come along with these activities. It's hard to say "Sorry, sweetheart. We don't have the money for that right now," when they see their peers heading off to dance class or cheer camp.
Dance class by itself doesn't seem like a major expense, right? And often it's not, when you just look at the cost of the classes. But then you find out that the costume for the recital — an outfit your kid will literally wear for five minutes onstage and then never again — is $95. And then you find out that her recital requires tickets at $10 per person, and each child only receives one complimentary ticket. So basically, for your daughter to perform one dance and for her family to be able to see it in person, you're going to have to fork over $135.
That just seems insane to me.
That's just the tip of the iceberg, though. The most shocking response I got to my inquiry about enrichment expenses was from a mom from the Southern U.S. whose daughter has recently gotten into competitive cheerleading.
Here's how her expenses break down:
Competition fees: $100/month
Tuition: $100/month
Tumbling class: $40/month
Uniform: $450
Hair bow: $40 (yes, really)
Shoes: $35 to $80
Hotels for competitions: $300 x 9 competitions per year
Travel fees (gas, food, etc.): Depends
Her daughter's team also just got a bid for a big national competition at Disney, which is another $500, plus hotel, plus travel. Thousands of dollars.
That's just for one child.
Oh, and did I mention her daughter is 7 years old?
This mom understands how crazy that all sounds. I mean, $40 for a freaking hair bow?! She was too embarrassed to give her name because she knows how people would respond. But most of us also understand the desire to help your child pursue their dreams, no matter the cost.
The problem is that parents feel pressure from various sides to supply enrichment activities, and the costs have gotten out of control. We've chosen to do our best with local rec programs and only invest more in activities our kids are super serious about. But I still feel for families who simply can't afford it at all. The societal message that kids have to have to these things really needs to change, or we need to find ways to make it more affordable and accessible.
This article was originally published on