Costco's Selling A 27-Pound Bucket Of Macaroni And Cheese
by Valerie Williams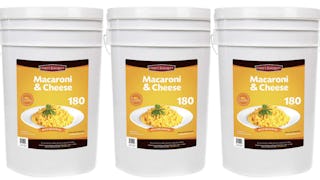 Image via Costco
Costco has a 27-pound bucket of macaroni and cheese to start the new year off right
Things aren't starting off so great in 2019. The government's shut down. Christmas is over and depressing winter's here. The "Baby Shark" song is inexplicably on the Billboard charts. Donald Trump is somehow still president. But you know what else we have going on?
A 27-pound bucket of macaroni and cheese.
My first thought upon hearing that Costco was selling a 27-pound mega bucket of one of my favorite foods was simple — and resolute.
And it can be yours too for the extremely reasonable price of $89.99. That baby includes an entire 180 servings and has a 20-year shelf life. The possibilities abound and suddenly, I'm mentally rearranging the shelves in my plans for a future shelter in our inevitably dystopian future. Like, they need to hold a 6-gallon bucket of mac and cheese or 12.
Look at all that bucket mac and cheese goodness. The quality is evident, I think. Plus, there are three whole reviews and one of them says, "Honestly, I was expecting something that tasted horrible. I was surprised to find out that it was very good."
They've got my mouth watering.
180 servings means you could spend six straight months eating this glorious meal daily and never run out. We suppose you could also feed some to your picky kids, but why share? They get everything. This is for us.
We may never poop again, but it's a chance we're willing to take. Oh, and you can even order it online. This plan has no downsides.
Bless you, Costco, for anticipating a need we didn't even know we had.