Costco Is Selling 24-Packs Of Pre-Made Gelatin Shots In 4 Flavors
by Valerie Williams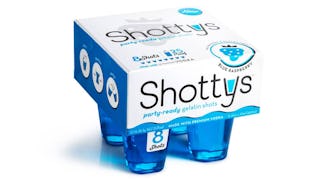 Shotty's
Summer's starting early because Costco is selling gelatin shots with 12.5 percent ABV
It's still early in March, but Sunday is Daylight Savings, so spring is extremely close and you know what that means — so is summer. Every year, us moms find a new and fun way to enjoy a drink or two while sitting at the pool for hours pretending to be interested in our kids' endless cannon balls and deep-end tricks. Last year was The Summer of Claw and this year is going to be the summer of fruity-flavored gelatin shots that contain 12.5% ABV. Bless.
These little gems are called Shottys, and they're nothing new — they've been around for a bit — but what does appear to be novel is the 24-pack Costco is hawking. Because it wouldn't be Costco if it wasn't 10 times more of an item than we need. Though in this case, 24 sounds like the right number of tasty shots for a girls' night in. Costco deals page CostcoBuys shared a photo of the 24-pack and BRB, we're going to see if our Costco sells them.
"You guys, look how fun these Shotty's party ready gelatin shots are! 😍🙌🏼 A follower shared this with me and these aren't in my Costco, so I don't have a price or item number…have you guys seen these in your Costco?" they captioned the pic. Looks like this wholesale bargain comes with strawberry, blue raspberry, grape, and watermelon flavors, but Shottys also sells Lime and Orange flavors — just not in packs of two dozen.
Now this is a pretty exciting development, y'all. I may be very dedicated to my summer partying, but I have two kids, a dog, a husband, a house, and a full-time job — momma has zero minutes for making gelatin shots from scratch, so the fact that I can buy them pre-made and IN BULK is pretty much the early kick-off my summer needed.
Behold the convenience.
And they look delicious, TBH.
So the next time you're browsing Costco for deals, be on the lookout for the buy of the century. Your summer party guests (and your clean kitchen counters, because no gelatin shot-making mess) will thank you.