Brides Are Replacing Flowers With Cotton Candy Bouquets And They're Adorable AF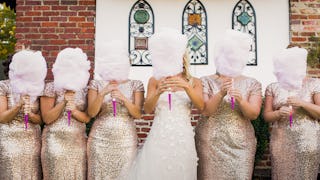 Image via Instagram/George Street Photo
If you're tired of the same old flower bouquets, check these out
When a bride walks down the aisle, all eyes are on her (as they should be). Besides the dress, her bouquet is one of the fun ways a bride can let her personality shine. While flowers still rule the day where bouquets are concerned, there's a new trend taking weddings by storm — cotton candy bouquets.
RELATED: Best Cotton Candy Machines For Kids Who Love Sugar (AKA All Kids)
Not only do they look completely adorable, if you're a bridesmaid, why wouldn't you want an edible bouquet to get you through the day and night? Listen, we love our friends but weddings can be long. A portable bundle of sugar is the perfect way to keep you and your BFF's going throughout the festivities.
"Some brides are ditching the traditional flower bouquet for something different….and edible," Million Miles Wedding posted on their Instagram page. "Cotton Candy bouquets are fun and whimsical." We couldn't agree more.
https://www.instagram.com/p/BsvV3ZGA9tr/
Seriously, how cute are these? Depending on your colors, you could arguably get your cotton candy in any hue you desire (or a rainbow if you're really down for some fun).
Some may be thinking, "What if it's a super hot day, won't they melt into a sugary river running down the arms of your most favorite of family and friends?" Sure, that's something to consider. Since it would be rude to eat your bouquet before you walk down the aisle, consider one of these faux bouquets instead.
See, problem solved (and they compliment the dresses perfectly).
If you don't want to ditch the flowers entirely, you could do a little combo package which is quite possibly the cutest, most Lorax-y ball of fluffiness I've ever seen.
As someone who is seriously anti-flower anything, this is definitely a trend I could get behind. Cotton candy smells divine and it takes allergies off the table for anyone who may suffer. Plus, you could start an entire cotton candy theme with centerpieces so all the guests can partake in the sugary deliciousness.
Cotton candy isn't the only way to ditch traditional floral bouquets. Check out these donut bouquets or if you're feeling a little more saucy, there's even pizza bouquets.
The good news is there's plenty of options out there to please even the most particular of brides.
This article was originally published on