Couple Gets Married On Mt. Everest. Meh, I've Seen Better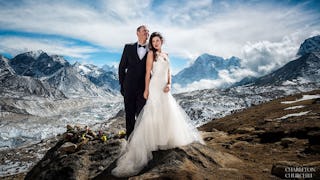 Image via Instagram/Charleton Churchill
Getting married on Mt. Everest tops everyone and always will
A California couple decided to outdo basically everyone in regard to epic wedding photos that can't be easily recreated. That's because they were literally three weeks of treacherous climbing in the making. The couple and their photographer trekked to the top of Mount Everest to capture the bride and groom saying, "I do."
And we'll all be over here saying, "Good for you, but NOPE."
Ashley Schmeider and James Sisson clearly weren't cool with a reception at a local restaurant (even with an open bar?) or vows said on a beautiful beach. They took shit to the limit by promising 'til death do them part at the top of the tallest mountain in the world where people have actually died. Your wedding at an abandoned barn doesn't seem so amazing now, eh?
According to Bored Panda, Ashley, 32, and James, 35, spent a year training and planning for their wedding in Nepal and (apparently very fit) photographer Charleton Churchill came with.
Obviously, there were no other guests. Because, oh my God.
https://www.instagram.com/p/BR66y1_jjgj/?taken-by=charletonchurchill&hl=en
Can you imagine getting that save the date? "Come one, come all, risk your lives to watch Ashley and James tie the knot!" Luckily, the adventurous couple seemed to understand that an Everest climb would be asking a bit much of the average wedding guest. Or, human being in general. This makes your cousin's assumption that you can afford a three-day weekend in the Bahamas for her destination wedding seem eminently reasonable.
The three-week trek is one thing, but tons of preparation before the actual event goes into an Everest climb including altitude training. Ashley and James, along with their photographer, reached the 17,000-foot-high Base Camp Everest after weeks of climbing and finally said their vows in the freezing cold.
https://www.instagram.com/p/BTkmD0uD9mX/?taken-by=charletonchurchill&hl=en
They dealt with altitude sickness, tons of snow and sub-zero temperatures, but, worth it? They have the ultimate social media photos that no one will ever be able to top, and, oh yeah. Special memories to last a lifetime or whatever.
My bridal party survived the bachelor and bachelorette parties as well as the rehearsal dinner without anyone throwing up or sobbing drunk tears, which I felt was a feat worthy of note, but this couple had to go and outdo everyone.
All joking aside, these photos are indescribably beautiful and imagining all the planning and prep it took to make them happen is nothing short of mind-blowing. Churchill and this brave couple deserve every bit of praise and viral fame heaped upon them.
But we still have to say it.
Showoffs.
This article was originally published on