Couple Surprises Mom With Holiday Visit -- And Adopted Grandchild
by Ashley Austrew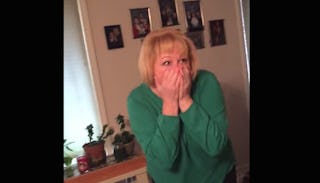 This woman's adorable reaction to her son's surprise adoption news is going viral.
It's almost Christmas, and we're gonna' let you finish, but this Indiana grandmother already got one of the best Christmas gifts of all time. Eva Goeb was hanging out at home on Sunday, when she got a surprise knock at the door from her son and daughter-in-law, on leave from their Air Force base in Pearl Harbor. As if that wasn't shocking enough, they also brought Goeb's brand new grandbaby, adopted in secret 10 days earlier.
It turns out Goeb's son, Donny, and his wife, Miranda, had been planning their adoption for a while. Miranda retired from the Air Force in September so they could begin the adoption process. They learned they'd be parents in early November, and met with the birth mother later that month. On December 8, their new daughter arrived, and a week later they were off to Indiana to share the good news. They filmed Grandma Eva's reaction, and it's pretty much the sweetest thing you'll ever see. She completely loses it:
The adorable video has been viewed over a million times since it was posted. People are just floored by Goeb's over-the-top joyous reaction and the fact that the couple was able to pull of such a stealthy surprise. Wrote one commenter, "Best. Reaction. Ever. I had to watch it twice!"
The couple tells WTHR they chose not to tell their families what was going on because of the many unknowns that come with adoption. "We wanted to protect our hearts and theirs," Miranda Goeb said. "Once the baby was officially placed with us, to become our daughter, we decided that it was not the type of news to be shared over the phone."
The baby's name is Melissa Faith, though she's been nicknamed Lily by a family friend, and she's the first grandchild for Eva Goeb. Judging by Eva's ecstatic reaction to meeting her adopted grandchild, she's already completely loved and adored. It'll be so sweet when she's older for her to get a chance to watch this video and see how excited everyone was about making her a part of the family.
Adoption is often a long and emotionally difficult process, but as this video proves, it's more than worth it when everything works out. According to the Congressional Coalition on Adoption, there are over 101,666 kids in the U.S. who are eligible for adoption, and that number increases all the time. Hopefully this video inspires other families to consider opening their home and family to one of the many kids who need it.
Congratulations to Grandma Eva and her entire family on what is surely their best Christmas surprise ever!