Rare, But Serious: COVID-19 Induced Psychosis And Suicidal Ideation
by Kimberly Zapata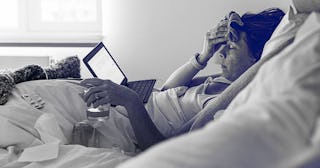 Scary Mommy and Justin Paget/Getty
From difficulty breathing and a cough to fever, chills, and a loss of taste or smell, most of us know the symptoms of COVID-19. After all, we are nearly ten months into this pandemic. The signs are well-documented, well-studied, and well-known. But some patients will develop and/or have developed psychiatric symptoms. In fact, according to a recent study — published in the journal SN Comprehensive Clinical Medicine — some individuals with coronavirus will experience COVID-19-induced psychosis. Others will have suicidal thoughts.
"Many of the psychiatric manifestations of COVID-19 are a consequence of psychological stressors, such as fear of illness and death, prolonged social isolation, and uncertainty and fear about the future," the study explains. "However, a growing body of evidence suggests that the virus itself can precipitate psychosis among [the] infected."
Or, to put it another way, COVID-19 can cause one to experience delusions, hallucinations, and/or suicidal thoughts.
The reason for this reaction is unknown. Some experts believe these symptoms are caused by (or, at the very least, linked to) widespread inflammation in the body. They may also be the byproducts of the body's immune response. However, that is not the only factor. In fact, several individuals had psychotic episodes without experiencing any other symptoms— individuals like Mr. C., who was cited in the study.
"Mr. C, a 52-year-old male with medical history of obstructive sleep apnea on home CPAP with no significant psychiatric history, presented to our emergency department (ED) with acute altered mental status," the study states. "He was found to be disorganized, irritable, and with select mutism."
This is not the first time a connection has been made between psychosis and viruses. Similar symptoms were observed in patients with the "swine flu" and SARS, another coronavirus. "One study reviewing literature from the H1N1 influenza, Ebola, SARS, Middle East Respiratory Syndrome (MERS), and COVID-19 outbreaks estimated that 0.9 to 4% of people exposed to a virus during an epi- or pandemic develop psychosis or psychotic symptoms," the study explained. "Significantly higher than the median incidence rate of .015% for psychosis in the general population."
The coronavirus crisis has also caused there to be an uptick in mental health-related conditions, albeit indirectly. Grief, fear, isolation, career and familial instability, and financial insecurity are just some of the contributing factors.
The good news is the occurrence of COVID-induced psychosis remains quite rare. According to the January 2021 issue of Neuroscience Letters, only 42 cases of psychosis have been associated with COVID-19. 42 in 85 million. Unfortunately, those who experience said psychosis often have severe symptoms.
Mr. C, for example, was agitated, anxious, and paranoid. He had both hallucinations and suicidal thoughts, and he threatened to harm himself, raising a knife to his neck. And he is not alone. According to the New York Times, a mother with no history of mental illness who developed COVID-19 induced psychosis heard voices that told her to murder her children. A 36-year-old woman from North Carolina who developed the syndrome had similar delusions. She tried to pass her children through a drive-through window to "save" them from a perceived kidnapper.
All three were treated for their symptoms and conditions.
Other brain-related symptoms have also been tied to COVID-19, including strokes, headaches, dizziness, and difficulty focusing or concentrating. "Brain fog" has also been reported. In fact, one study, published in the Annals of Neurology, found more than 80% of hospitalized coronavirus patients experienced some neurological symptoms.
So how do you protect yourself (and those you love) from contracting COVID and/or developing COVID-induced psychosis? Well, the best way is the most obvious method: Wear a mask when you're out and about. Limit interactions with others. Socially distance, whenever possible, and listen to the experts. Seriously. Doctors, scientists, and infectious disease specialists know best.
Is it fail-proof? No. I know several individuals who have done everything "right" and still contracted COVID, but it is your best bet. Being smart will help keep you and your family safe.
If you or someone you know is experiencing suicidal thoughts, please call the National Suicide Prevention Lifeline at 1-800-273-8255 and/or head to your nearest emergency room.
Information about COVID-19 is rapidly changing, and Scary Mommy is committed to providing the most recent data in our coverage. With news being updated so frequently, some of the information in this story may have changed after publication. For this reason, we are encouraging readers to use online resources from local public health departments, the Centers for Disease Control, and the World Health Organization to remain as informed as possible.
This article was originally published on