Sorry Folks, But COVID Is Here For The Long Haul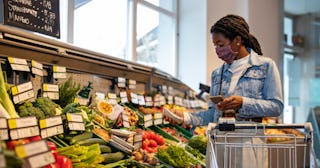 Luis Alvarez/Getty Images
It's been two months since the first COVID vaccine was administered, and while the rollout process has been slow, there is hope. To date, more than 34 million first vaccines doses have been given in the United States, and 11 million people are fully vaccinated. This is both promising and full of potential. If the rate of inoculations continues at or above the current pace, we should see COVID infections beginning to decrease sometime in late March, or early April. Unfortunately, COVID isn't going away. In fact, according to epidemiologists, the pathogen will likely circulate for years, leaving society to coexist with COVID-19 much as it does with other endemic diseases — like measles, HIV, and the flu.
"The virus is now present in both hemispheres and has had successive waves of infection," Professor Marc Van Ranst — an expert on coronaviruses at KU Leuven in Belgium — tells Horizon, The EU Research and Innovation Magazine. "All the ingredients are there to have this virus become an endemic coronavirus that might be around for hundreds of years," and history suggests the same. The virus which caused the 19th century pandemic, OC43, is still present today.
"OC43 is still around," Van Ranst explains. "[Though] it is now responsible for common colds."
Of course, this isn't great news. Well, at the very least, it isn't the news many of us want to hear. But it also isn't surprising. Very early on, after countries failed to contain the coronavirus and transmission raged globally, "it was evident to most virologists that the virus would become endemic," John Mascola, the director of the National Institutes of Health's Vaccine Research Center, tells the Wall Street Journal. "When a virus is so easily transmitted among humans, and the population [lacks immunity], it will spread any place it has the opportunity to spread. It's like a leak in a dam."
But what should we do? What can we do? Well, the first thing we need to do is accept that, for the time being, this is our new normal. "Going through the five phases of grief, we need to come to the acceptance phase that our lives are not going to be the same," Thomas Frieden, the former director of the U.S. Centers for Disease Control and Prevention, tells the Wall Street Journal. "I don't think the world has really absorbed the fact that these are long-term changes." But what these long-term changes will be remains to be seen.
Mask-wearing and social distancing will likely be a part of our lives for some time. Dr. Anthony Fauci — the director of the National Institute of Allergy and Infectious Diseases and chief medical advisor to President Joe Biden — has said we can (and should) expect to wear masks into 2022.
"I feel very strongly that we're going to need to have some degree of public health measures to continue," Fauci told doctors and students at Thomas Jefferson University in Philadelphia in October. "It's not going to be the way it was with polio and measles, where you get a vaccine, case closed, it's done. It's going to be public health measures that linger for months and months."
We may also need to double mask. In fact, new evidence suggests double masking could help reduce virus transmission by a pretty astounding amount — up 96.5 percent. However, and this is important, these changes are not permanent. Eventually, the COVID-19 pandemic will be downgraded to an endemic, or a disease that is always present in a certain population or region. Diseases are considered endemic when they remain persistently present but manageable, like the flu, and when this happens, we will likely be able to live more freely. We will be able to have coffee with colleagues. To play in the park. To go to concerts, shows, and yes, even school.
But in order for us to get to this point, we need to do our part. We need to wear masks and remain socially distant and vigilant. Frivolous activities should be avoided. Attending Mardi Gras celebrations, for example, should definitely be a no-go. And we need to be safe, both indoors and outdoors. We need to be respectful and mindful of others' place and space, no matter how tired we are of taking the proper precautions. Because even as restrictions start to ease, we still can't count on going "back to normal" for the foreseeable future.
Information about COVID-19 is rapidly changing, and Scary Mommy is committed to providing the most recent data in our coverage. With news being updated so frequently, some of the information in this story may have changed after publication. For this reason, we are encouraging readers to use online resources from local public health departments, the Centers for Disease Control, and the World Health Organization to remain as informed as possible.