Social Isolation Is On The Rise Even Though The Covid Crisis Has Begun To Subside—What Gives?
by Holly Garcia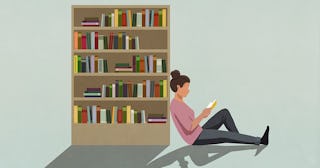 `Malte Mueller/Getty
It's been roughly 16 months since the dumpster fire that is COVID-19 hit the U.S. As more and more of the U.S. population gets vaccinated, businesses are lifting capacity limits, and people are seeing other humans IRL outside of their bubble — and yet we seem to feel just as isolated as when this whole thing started. We all said we couldn't wait for the pandemic to be over so things could get back to normal. But did we really mean it? What does normal even mean anymore?
We're all exhausted and tired of constantly worrying about what comes next. Parents with children under the age of 12, who aren't eligible for a vaccine, live in a precarious state of balance. How do I keep them safe when masks are no longer mandated? We'd all like to assume people follow the honor code and are still masking if they aren't vaccinated, but let's be honest. People who didn't give a fuck weren't wearing masks when they were mandated. So do we really trust them now?
This uncertainty and inability to rely on other humans with whom we share this world was bad enough when it was just a bunch of fools we saw on the news. But as the saying goes, people show their true colors in hard times, which might be one of the reasons why social isolation continues to be a struggle facing many Americans.
A joint study out of Northeastern University, Harvard University, Rutgers University, and Northwestern University found that even though we're starting to get back to normal, feelings of social isolation are still at an all-time high. These findings base levels of social isolation on different types of support we have access to from people in our lives, like caring for us when we are ill, financial, emotional, and employment support. If you can only name one person (or maybe no one) who would support you in these ways, you fall into the category of people facing social isolation.
When we all became physically isolated from everyone outside of the people we lived with, there was plenty of time to pause and reflect on our relationships. Were the people in our life there out of convenience, or were they part of our network of support? Would Jane be willing to loan me a few hundred dollars to make sure we could make rent this month, or maybe help me out with an introduction with her boss since I lost my job? Would Courtney listen to my worries and anxieties about how I am terrified AF about getting sick and passing it onto my kids? Or if things really went south, would she help if I got sick?
When we feel like we have no one to rely on in these scenarios, we're more at risk of experiencing a decline in our mental health. In fact, according to Mental Health America, "70% (of people) reported that one of the top three things contributing to their mental health concerns was loneliness or isolation." When it comes to these natural disasters, we can't control how and when they occur, but we can control how we move through them. Just because we might be physically isolated doesn't mean we have to suffer through total social isolation.
There are a million and two ways for us to connect without being in the same physical space. Yes, with social media, you can comment and like people's posts to show support for them, but if there is one thing we know about social, what you see isn't always what you should believe. It's easy to highlight the good moments, but what about the hard times? The moments when work sucked, when you were annoyed by your spouse (who has also been working from home full-time), and the kids wouldn't stop complaining about how bored they are. Oh, and did I mention you burnt the toast — twice? We've all had those days, but some had those weeks or even those months. It's not always what we want to talk about or admit to, but reaching out can make a world of difference.
Give your friend a call, send them a text, forward a hilarious meme that made you spit out your coffee this morning. I know we're Zoom fatigued at work, but jump on a Facetime or other video call. You forget how much you miss seeing your people until you see their smiles. Virtual happy hours are absolutely still a thing, or if you feel comfortable enough, drag some lawn chairs to the edge of your lawn to have a socially distanced drink with your neighbor.
There are plenty of people who are out and about living life like COVID-19 never happened. But it did, and that matters. For those who are still struggling with feeling unable to connect with your support network, don't hesitate to reach out to your people. We've all had different experiences over the past 16 months, but I promise there are more people out there than you realize who can empathize.
If you're someone who has been able to navigate and cope with feelings of social isolation, reach out and check on those you haven't heard from in a while. You never know how much of a positive impact you can have on their day. Support is everything. Let's make sure we carry community, empathy, and support for one another forward from what used to be normal. As for the rest of that ish, y'all can keep it.
This article was originally published on