The Coyote Ugly Reboot No One Asked For Is Coming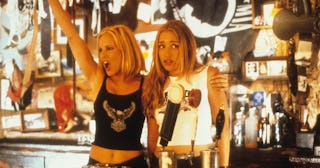 Buena Vista Pictures/Getty
Were you sitting around wondering when a "Coyote Ugly" reboot was gonna come along? Yeah, me neither
Because the 2020 hits just keep on coming, apparently someone out there decided we needed a reboot for the cult classic film Coyote Ugly. Did you love it when you were a teenager? Sure. But things have, um, changed a little bit since the old Y2K when the original film came out and it's kind of tough to imagine how the "bartenders in daisy dukes dancing on bars" thing could get an updated feminist 2020 twist, so that probably means it won't? Anyway, let's take a journey.
The news of the possible reboot broke when one of the movie's stars, actress and model Tyra Banks, spilled the beans during an appearance on The Kelly Clarkson Show. "I literally was supposed to be on a conference call today about bringing Coyote Ugly back," the Dancing with the Stars host explained."
"We were supposed to be on a call today, and I'm talking to you and I can't talk to them," Banks added. "Yes, we are talking about trying to do Coyote Ugly 2 or a series."
A whole series, huh? Neat.
Along with Banks, the original movie starred Maria Bello, Bridget Moynahan, Piper Perabo and Izabella Miko. Perabo played Violet Sanford, the ingenue who is vying for a career in the music industry but somehow gets roped into dancing on top of bars and being sassy to drunk men at the Coyote Ugly bar instead.
In case you forgot, the movie does explain what the bar's name means. "Did you ever wake up sober after a one night stand, and the person you're next to is layin' on your arm, and they're so ugly, you'd rather chew off your arm then risk waking 'em? That's coyote ugly."
Cute.
The film is campy AF and super cheesy — famous for lines like, "That one's Rachel, the New York bitch. We all play our little parts. Only Rachel really is a bitch, and I really am a tease."
Tap-dancing all over feminism like:
Although there was that scene where Violet auctions off her love interest to some thirsty female bar patrons in order to pay a fine she owes her boss. Girl power, y'all.
Of course, there's always room for a frivolous, silly, fluffy movie with nostalgic touches (hello, late 90s crop tops and leather pants) but since Coyote Ugly The First is still available to watch, I'm not sure why we need a reboot? I mean, Tyra can do whatever the hell she wants but the glory of the first movie will be lost in a modern update, so maybe let's just leave the 2000 version in peace along with teeny butterfly hair clips, frosty blue eyeshadow, and ultra low-rise jeans.