Crayola Makeup Looks Just Like Crayons And Your Inner Child Needs It All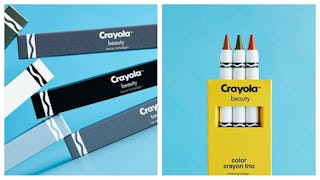 Image via ASOS
ASOS' partnership with Crayola is going to be the talk of the playground
Remember getting to school and comparing supplies with all the other kids? And remember how the school supply lists always called for the 12- or 24-count boxes of crayons, but inevitably there was that one kid who showed up with the 64-count box with a built-in sharpener? Remember how freakin' jealous that made you (and all of us)?
RELATED: The Best Play Makeup Sets And Toys For Kids Who Are Too Young For The Real Thing
There's a new jealousy-inducing crayon in town.
Crayola just announced a partnership with ASOS, and the makeup they released will tug at every one of your nostalgic little heartstrings.
https://www.instagram.com/p/BjmxXSQFjoh/?utm_source=ig_embed
YUP. That is makeup that looks just like the preferred crayon brand of your childhood. Some of the pieces even come in that iconic yellow box we all remember so well.
This, fam, this is the new 64-count box with a built-in sharpener. Nab all of these, and you'll be the envy of the grownup playground.
Plus, it looks like the colors are super pigmented, so using this stuff really is like drawing with bright Crayola crayons on your skin, something you know you tried to do when you were a kid, but as you will recall, just didn't work out the way you wanted it to.
The Crayola ASOS offerings include lip and cheek crayons:
Eye colors, which they call "face crayons:"
Highlighters, mascaras and more.
And, in case your elementary school self isn't screaming yet, there are some mermaid-themed offerings, like a set of glittery face crayons and a shadow palette.
Plus, the line is super inclusive, featuring shades that will pop (or blend) on every skin tone.
School shopping season is still a couple months away, but you should probably pick these up sooner rather than later. We have a feeling they aren't going to last until September.
This article was originally published on