Creative Couple Wins The Internet With Horror Movie-Themed Pregnancy Announcement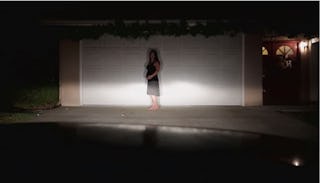 Another day, another viral pregnancy announcement — except this one is insanely creative and unlike anything you've ever seen before.
Redditor optimus_maximus, whose real name is Gavin Holt, says he and his wife recently found out they're expecting a child and he wanted to announce the exciting news in a big way. He was insanely pumped when his wife gave him free rein to create whatever sort of pregnancy announcement his heart desired, and he set to work on masterminding something totally unique.
Gavin and his wife are both wedding photographers, so he used his artful eye and knowledge of cameras and editing to create a homemade horror flick. The end result is a hilarious and clever twist on a trailer for a scary movie. The video starts out with the giddy couple moving into a brand new home and celebrating their new life together, but we quickly find out things are not quite as perfect as they seem. Strange and unexpected things begin to happen.
There's a mysterious bun in the oven.
The cats are acting weird.
The mirror is covered in…Prego?!
Dun, dun, dun.
I have to admit, I kind of love the recent trend of parents trying to out-humor one another with these milestone markers. Last week there was the lady who took that hilarious first day of school photo with the bottle of tequila and the 'Bye, Felicia' sign. Now there's this awesome off-beat pregnancy announcement that totally knocks it out of the park.
I love the sentimental, sweet stuff as much as anyone, but there's something about parents using their creativity to make special memories and tickle funny bones that's completely irresistible. One day Holt and his wife will be able to laugh about this video with their future kids, and that's pretty cool to think about. I think their little ones will appreciate the fact that their parents took the time to craft something quirky, fun, and totally original.
We're not all talented enough to script and film a complete horror movie — I know I'm not — but Holt's pregnancy announcement is a good reminder to put away the Pinterest boards, break with tradition, and just go with what you know. It's tempting to compete with the beautifully curated announcements and home movies you see online, but announcing pregnancy news to family and friends is extremely personal. It shouldn't be about anyone else. Stick to what you like and don't be afraid to be different. Chances are your future child will appreciate that special glimpse into who you were and what your life was like before they came along.
This article was originally published on