Your Baby's Name May Not Be As Unique As You Think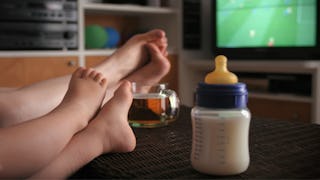 vesilvio/Getty Images
Some baby names — like William and Elizabeth — are classics, remaining quietly and steadily on the popularity charts for decade after decade. But others make a screaming entrance and skyrocket to the top, faster than you can say "Jennifer."
So why do some names experience a sudden boom?
The answer is the culture around us. Baby name trends come and go, shaped by our surroundings in the same way as fashion and memes and music. They are as susceptible to fads as everything else, and one influential person or event can make or break the public's perception of a name.
Here are a few of the ways that our lifestyles (and the lifestyles of the rich and famous) impact the names we choose for our babies.
Cultural influences
Areas with large populations of a particular culture often see a surge in names that are common or popular in those cultures. In Texas and New Mexico, for example, where there are large Latinx populations, Mateo and Santiago — two common names among Latin American cultures — are among the most popular boys' names.
Movies
If you know an Ariel, Bella, or Jacob – and who doesn't? – you're looking at a real-life example of how the names of movie characters can make a big impact on naming trends. One of the best examples is Madison. Originally a surname, it wasn't used as a feminine first name until the movie Splash came out in 1984, and Daryl Hannah's character chose her name from Madison Avenue. It entered the U.S. top 1,000 in 1985 at #625, reached its peak in 2001-02 at #2, and is still in the top 20. Even names of less-than-lovable characters sometimes see a jump; the name Samara (the creepy AF ghost girl in The Ring) saw a sizeable gain after the movie was released in 2002, going from spot #929 to #456 in 2003.
Natural disasters
Okay, so this is an anti-trend of sorts, but too interesting not to include. If you want to make sure your chosen baby name doesn't plummet in popularity, you may want to check out the website of the National Oceanic and Atmospheric Administration (NOAA) for its list of tropical storm names. Because when a storm hits – especially a big one – the number of people choosing that particular name takes a nosedive.
A prime example: After Hurricane Katrina hit in 2005, that name went from #246 on the charts to a dismal #942 at last ranking. However, there is one weird side-effect to note – thanks to what psychologists call the "mere-exposure effect," which means we're more likely to prefer something we see/hear a lot, including sounds, baby names that begin with the same letter as the natural disaster tend to experience increased popularity.
Video games
In 1992, gamers were introduced to a character named Raiden via a game called Mortal Kombat. By 2007 (presumably when the original Mortal Kombat players became parents themselves) in had entered the charts at #944 – and has continued its rise to its current position at #400. Kingdom Hearts, a game released in 2002, invented the name Kairi, which entered the charts in 2010 at #961 and has continued to climb to #778. And we're betting that The Floss isn't the only Fortnite-inspired trend to hang around; it's too soon yet to tell for sure, but in the Kindergarten classes of the next decade there'll likely be an uptick in kids named Rogue, Leviathan, and Ramirez.
TV shows
It's the reason why the '90s were full of Dylans and today's preschools are filled with Aryas – people love their TV characters. And the show's genre doesn't matter. Jax, for example, was at #698 when "Sons of Anarchy" (and its Jax Teller character) premiered in 2008. The very next year, it jumped to #425, and now is all the way up to #222. And the name Novalee wasn't even a thing until "Teen Mom" personalities Catelynn and Tyler Baltierra gave it to their daughter in 2015; now it's on the charts and climbing.
Celebrities
This should come as no surprise, considering we hear their names everywhere, but celebs are some of the biggest name influencers. Whether they're singers ("Zayn" wasn't even in the top 1000 until 2013 – and now it's ranked #341) or actors (it's no coincidence that the name Scarlett was at #761 the same year Scarlett Johansson had her first major movie role, and now it's at #18), the people we love to worship are also the people we love to name our kids after.
Celebrity kids
In the same vein, we also place a lot of stock into what our favorite celebs are naming their kids. When Orlando Bloom and Miranda Kerr's son Flynn was born in 2011, the name jumped nearly 250 spots on the popularity charts, and has continued to rise. The Kardashians, always the trendsetters, have a hand in naming trends too: When Kourtney Kardashian gave birth to daughter Penelope Disick in 2012, the name was at #125 – but it soon jumped to #56, and is now at #24. When Will Smith and Jada Pinkett Smith introduced their son Jaden to the world in 1998, the name was at #328, but within five years it had skyrocketed to #82.
Athletes
Fans don't just rock jerseys to show their allegiance to their favorite sports superstars – they name their babies after them, too. Take the name Eli, which was at #191 on the charts when Eli Manning made his rookie debut with the New York Giants; within less than a decade, it had peaked at #43. When Laila Ali began her boxing career, there were 167 baby girls given the name Laila in the U.S., but by the time she won her fourth and final title, that number was 2,410. And after the Olympics, there is always an upswing in the names of the most notable Olympians.
Even if we think we're naming our babies something unique, it's likely influenced by our culture more than we realize. And it's hard to accurately measure just how much clout these trends have – like when Jaden morphs into Jayden, which morphs into Jaiden and Jaydon and Jaidyn and Jaedyn, which crosses over to the female side, each treated on the popularity charts as its own separate entity.
It just goes to show that baby name inspiration can be found in a lot of places – and sometimes, it's as close as the couch.
To find your new favorite baby name, check out the Scary Mommy baby name database!
This article was originally published on