The Answer To My Hair Prayers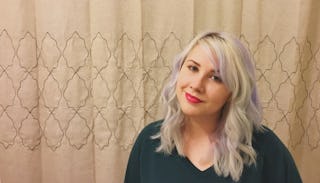 Sara Farrell Baker
Every eight weeks, I go to the hair salon and for highlights and a cut. I come home and work the hell out of that blowout because it's the only time my hair is going to be styled for the next eight weeks. I can barely muster up the energy to slap on some BB cream and mascara in the mornings. Doing much to my hair outside of tossing it into a ponytail feels like an enormous effort, and a fruitless one at that, because I am garbage at doing my own hair.
Which is why I was intrigued when I learned about the Instawave Automatic Hair Curler. It's a curling wand, and all you do is hold it up against your head, push the button, and it picks up hair with these spinning prongs and curls it. You just hold the wand, and it does all the stuff I normally mess up.
I hardly ever curled my hair, even though I get it cut in one of those cute lobs that look great with waves, because I end up with Shirley Temple barrel curls. I'm also really good at getting crimp marks in my hair from holding a curling iron clamp too tight. Trying to curl with a flat iron always leaves me with weird bends in my hair. All good looks for an adult woman.
Then I decided to give the Instawave a shot and figured I could just return it if I didn't like it. I washed my hair for the first time in several days and let it air-dry like I usually do. Then I sprayed in a little heat protectant and set to work. What usually takes me at least 45 minutes was done in about 15. I had an easy time controlling the tension once I got the hang of it, so my curls weren't tight and stiff. I was left with bouncy, loose waves that I was able to touch up the next morning in just a couple minutes. My hair is on the shortish side (hits around my collarbone), so I didn't even have to section it out. And this made the back of my head a breeze, which is usually a disaster area for me.
I don't curl my hair every day, and I still have plenty of ponytail days. But it no longer feels like such a chore to get myself looking like a semi-put-together human being. Anyone who likes their hair to have some curl but doesn't like (or have time for) the work should have this in their toolbox.
Editors may receive samples and/or a share from purchases made via links on this page.
This article was originally published on