These Funny AF Wine Labels Will Fix Anything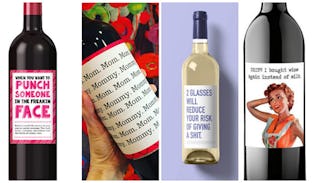 Images via Etsy
More wine, less whine
The world is a garbage pit right now. Maybe you don't agree, in which case — good for you. You should bottle some of that optimism and sell it. But until you do, we've found something to keep us afloat — custom wine labels. Because there's nothing a little snark and some wine can't fix.
We rounded up the best labels, for all your different pals.
Your mom friend
The Etsy shop The Sloshed Sisters sells custom wine labels for all your BFFs. This set lets you commiserate with your mom friends in the best way. It includes, "It would be irresponsible not to make house cleaning into a drinking game" and our personal favorite, "SHIT!! I bought wine again instead of milk."
Your friend who needs a pick-me-up
You want to put a smile on a friend's face? These labels from the Etsy shop Studio B Labels should do it. Tell her she's pretty or make a joke about her issues and how few fucks she gives. A gift only a bestie could give.
For the friend who's been scorned
These labels are a remedy for the friend who may be filled with a little more rage than usual. Nothing says "I get you" like a bottle of wine that says "When you want to punch someone in the freakin face." These labels from the Etsy shop I Custom Wine are perfection.
For YOU
There's even something for yourself, from the Etsy shop Classy Cards Creative:
And this, from Toulouse and Tonic
I mean, come on. Who doesn't need this?
This article was originally published on