15 Cute Animal Things That Will Make Life Feel Better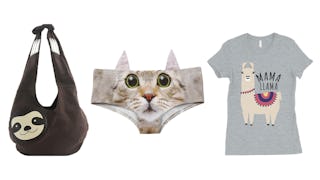 Images via Walmart
Hear me out: Therapy, but it's just looking at cute animals.
I mean, that could probably be a thing. Because there's something about cute animals that makes us inexplicably happy, and we could all use a distraction from the stress in our lives right now.
So cuddle up with a blanket and a warm beverage and look at these adorable finds that will distract you from all your worries for a hot minute:
This Black Cat Doormat is a great way to add a dash of cuteness to your front door.
An adorable Llama Throw adds a dash of whimsy to any living space.
This Llama Sheet Set is another great gift for anyone who loves llamas.
We're in love with this Animal Face Underwear and we don't care who knows it.
This Hug A Sloth Kit comes with a sloth plush that we just want to cuddle and carry everywhere. It can be our emotional support sloth.
A Cat Shower Curtain is sure to make you smile every time you see it, because OMG CUTE KITTIES.
Or if you're a dog person, these adorable Women's Dog Socks have 5 pairs of socks with ears.
These Fox Bowls are a cute touch to any kitchen. And the kids are for sure going to love them.
A "For Fox Sake" Mug is a great way to start your morning with your coffee or tea.
This Narwhal Tee is a perfect gift for anyone who loves cute sea animals.
A Sloth Shoulder Bag that looks like a sloth holding onto you. Take our money.
There's even a Sloth Clutch that you can keep inside your sloth bag. It's like "slothception" and we're here for it.
Lucky Cat is considered the bearer of good fortune and this is a super cute tradition we can get behind.
There's also a Ceramic Kitty Cup that anyone who loves cats will appreciate.
This Mama Llama Tee is another sweet gift idea for anyone who loves animals.
We hope you found something on this list that you'll love, or will love to get for someone else. And if not, we hope it at least made you smile and forget your worries for a bit.
We may earn fees from purchases made via links on this page and affiliated sites. All opinions are our own.
This article was originally published on